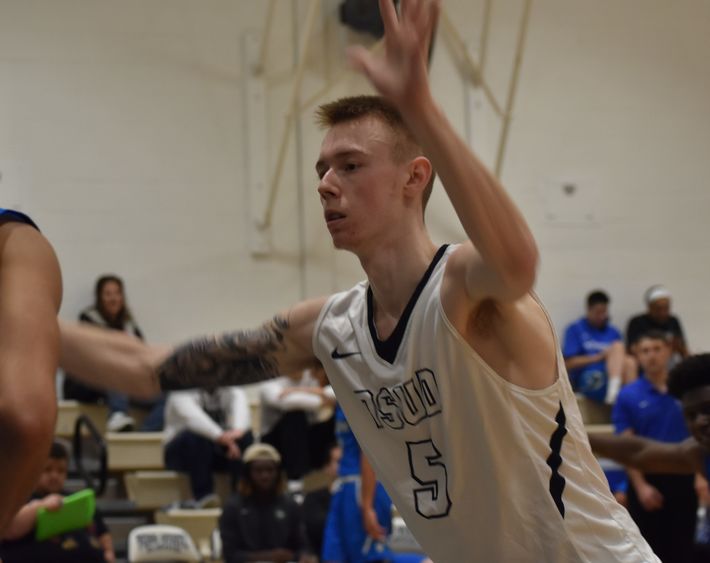 The Penn State DuBois men's basketball team started off conference play this weekend at home, hosting Penn State Hazleton on Friday, and Penn State Schuylkill on Saturday.
Friday night was one of the more intense games that ever took place on the DuBois campus, and had the crowd on the edge of their seats the entire game. Hazleton had an offensive threat in Andy Kwiatkowski in the first half as he had 15 points in the first 20 minutes of play. Hazleton would go into the locker room looking at an 11-point lead, but Coach Howard and his coaching staff would have a few things to say about that.
Coming out in the second half DuBois would assert themselves on both ends of the floor, and scratch and claw their way back to within three points of Hazleton. With 15 seconds remaining in regulation, Montest Bumpers (Savannah, Georgia) would hit a three-pointer off of an Osagie Evbuomwan (Severn, Maryland) offensive rebound, and assist. The shot from Bumpers would tie the game, and with no more made baskets in regulation, the game would head to overtime.
DuBois kept the momentum going, and got enough stops on the defensive end to continue their push to win the game, 81-78.
Russell Gariepy (Albion, Pennsylvania) led DuBois with 20 points and six rebounds, Bumpers would put up 16 points, and Evbuomwan would post a double-double with 12 points, and 11 rebounds.
A quick turnaround to their next game on Saturday afternoon saw DuBois still hyped from the day before. However, even though a close game again like the night before, turnovers would prove tragic for DuBois as they would lose to Penn State Schuylkill, 65-62.
Cole Morris (Rimersburg, Pennsylvania) led DuBois in scoring with 14, and DuBois would go to the line only 11 times all game. DuBois advances to 1-1 in conference play.