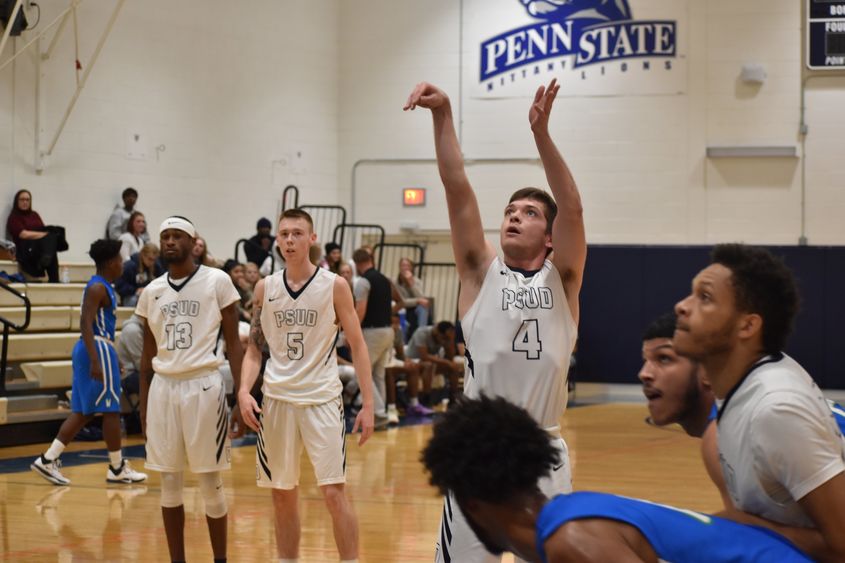 DUBOIS, Pa. — Coming off of a key win against division 3 Chatham University, the Penn State DuBois men's basketball team had a chance to show off its new team for the first time in front of their home crowd Tuesday night. DuBois welcomed the Wolfpack from Westmoreland Community College for this first home game of the season, claiming an 86-78 win.
DuBois looked good coming out of the gates and brought a lot energy to this home crowd. Returning key defender, Cole Morris (Rimersburg, Pennsylvania) made a statement early with his energy, getting his team hyped and ready. With a strong full court press from Coach Howard, DuBois gave the Wolfpack all it could handle trying to get the ball up the court. Mekhi Willis (Landstuhl, Germany) came off the bench early to help with this press effort and made his season debut by stealing the ball 5 times in the first half alone.
Morris and senior transfer Russell Gariepy (Albion, Pennsylvania) helped slow the Wolfpack offense as well with their quick hands to contain the dribble drive attempts of Westmoreland. Morris and Malik Gordon (Allentown, Pennsylvania) would be the offensive force in the first half for DuBois as they scored 13 and 11, respectively.
DuBois would go into the locker room with a 38-31 lead, and would also hold the rebounding battle, 20-14.
Starting the second half, DuBois broke open the lead to 16. The Wolfpack would then take advantage of the fact that DuBois called off their press, and bring the game back within 9. Fortunately, DuBois did not get rid of their energy, and would hold the Wolfpack in containment the rest of the way. Willis would add another 3 steals in the second half to finish with 8 total as DuBois would go on to win the game, 86-78.
Morris would end with a season-high 25 points and 11 rebounds. Both Gordon and Gariepy would finish with 14 points, and sophomore big man Osagie Evbuomwan (Severn, Maryland) would pull down 11 boards to help his team to the home victory.
DuBois will travel to Butler County Community College on Saturday to take on the Pioneers at 3 p.m.