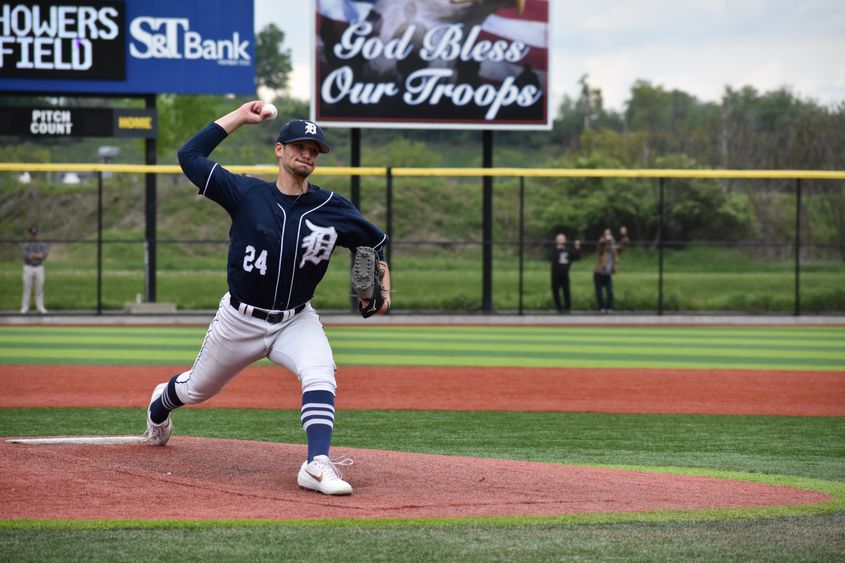 The Penn State DuBois baseball team continues to collect wins on their way to another World Series victory, downing Apprentice School 6-3 on May 15 at Showers Field.
In this United States Collegiate Athletic Association (USCAA) Championship game, DuBois took a quick lead in the first inning as Vincent McDowell (West Branch) singled in Garrett Brown (DuBois) and Lance Pennington (Punxsutawney) to take a 2-0 lead.
Austin Amacher (Ridgway) got the nod from Coach Calliari to start on the mound, and he made sure to make the most of it. The Apprentice School Builders scored their first run in the bottom of the second, but Amacher and his team continued to battle strong. DuBois would get a few insurance runs in the fourth and the fifth innings with RBI singles from Toner Corl (Central Mountain) and Isaac Stouffer (Punxsutawney) to take a 4-1 lead.
The Builders would earn one more run in the bottom of the fifth, but Amacher would get out of the inning with a two-run lead. Amacher's team was behind him full force on the offensive end, and would get two more runs in the sixth with hits from Zane Morgan (Clearfield) and Brown that scored Brandon Gettig (Bald Eagle) and Corl.
The Builders would make a push in the bottom of the sixth with a home run that brought them within three, and would get two runners on in the seventh. Morgan Bell (Somerset) would come in with one out in the seventh to relieve Amacher to close it out on a strike out to defeat the Builders, 6-3.
Coach Calliari has been nothing but pleased with his pitching staff, who has paved the way to the USCAA World Series Championship Game for the second straight season. He said, "Our pitching has given up four runs in 20 innings. Austin took the baton from Toner's performance last night, and ran with it."
Amacher pitched 6 1/3 innings, giving up seven hits, and three runs as he faced 28 batters. Bell faced the final two batters, including the final strike out that sealed the game for DuBois.
Penn State DuBois will square off at 2:30 p.m. on Thursday May 16, in the championship game in the USCAA Small College World Series. Their opponent in that game will be decided during tournament play early in the day as the remaining teams in the bracket battle for the title. Games will be live streamed at www.theuscaa.com
For more info, stats, and pictures visit www.psuduboisathletics.com