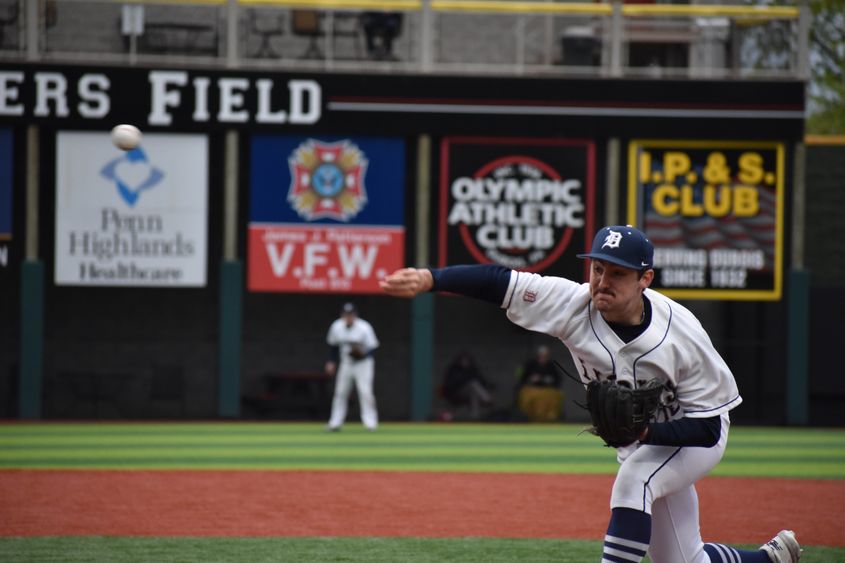 The Penn State DuBois baseball team continues through the United States Collegiate Athletic Association (USCAA) World Series bracket. The DuBois Lions topped Bryant and Stratton 4-0 on Tuesday at Showers Field.
It was a familiar opponent for the DuBois men. On April 25, during the regular season, Bryant and Stratton came to DuBois and defeated the Lions in both games of a doubleheader, 4-1 and 9-7. DuBois was hoping to get another chance at the Bobcats in this World Series, and they got it.
The first score came in the bottom of the second inning when catcher Joey Dipietro (Punxsutawney) hit a sacrifice fly to score Vince McDowell (West Branch). That would be the only score through six innings due to a pitcher's duel between the two starters. Toner Corl (Central Mountain) held the offensive-minded Bobcats scoreless in a performance worthy of world series pitching. Marlinson Brunken of Bryant and Stratton also did his own work from the mound as he held Penn State DuBois hitless until Isaac Stouffer (Punxsutawney) hit a single to left field in the sixth inning.
A double from McDowell then would score the second run for DuBois. Then to the plate came Clayton Butler (Central Mountain) and the dugout erupted as he hit a two-run blast over the right center field wall to put DuBois up, 4-0.
Corl continued to keep the Bobcats at bay with help from his defense who didn't let him down all game.
Coach Calliari had nothing but praise for the effort that his team put out, saying "Toner Corl literally carried us to victory tonight, and Clayton (Butler) and Vinny (McDowell) put the nail in the coffin."
Hitting – Butler ended the night with one hit and two RBI's, while McDowell added a double with an RBI.
Pitching – Corl pitched a complete game shutout, facing 24 batters, allowing only three hits, and dealing six strike outs.
This victory propelled Penn State DuBois to the winner's bracket final. DuBois will take on The Apprentice School in a matchup of last year's World Series Championship slated for 3 p.m. on May 15, at Showers Field.
For more info, stats, and pictures visit www.psuduboisathletics.com