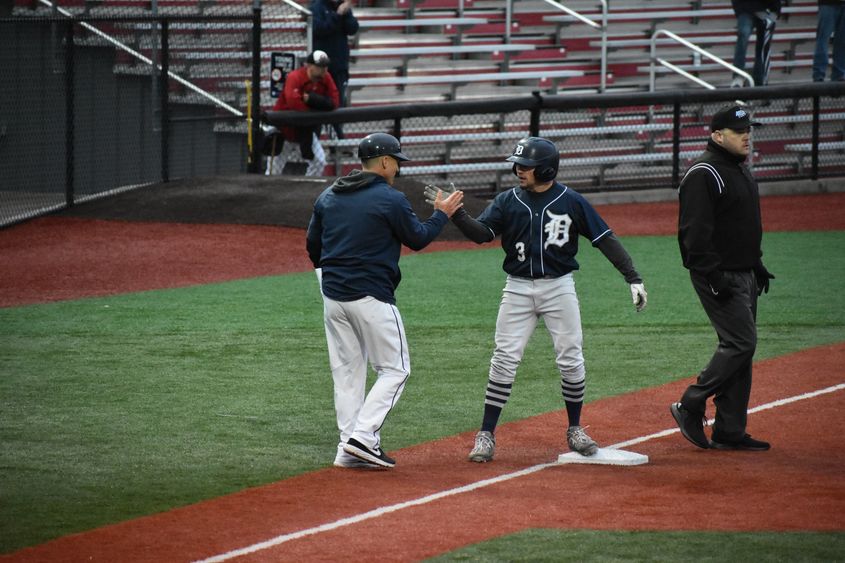 The Penn State DuBois Nittany Lions claimed a 7-1 victory over Southern Maine Community College in the first round of the United State Collegiate Association (USCAA) Small College World Series on Monday at Showers Field.
The Penn State DuBois Baseball team knew they had a target on their backs coming into the USCAA World Series this year. Their first bullet to dodge was the Seawolves from Southern Maine. DuBois was ready, and the five-run, first inning proved that. Lance Pennington (Punxsutawney) was the first foot on the plate for DuBois off of a Vince McDowell (West Branch) single to center field. Then Clayton Butler (Central Mountain) hit a three-run home run over the right-field fence to send a spark to his dugout that would carry through the game.
Hitting – Butler's home run brought in three runs, and he ended the game with two hits. Garrett Brown (DuBois) added two hits and two RBI's for the cause, including legging out a triple.
Pitching – Brandon Orsich (Clearfield) pitched 6 1/3 innings with the start from the mound. Orsich faced 23 batters, gave up five hits, and only one run. Bryce Hanley (Central Mountain) came in for the final two outs to finish off the game as DuBois took the game, 7-1.
Head Coach Tom Calliari said, "It was a great start to the tournament, Orsich proved why he was the pitcher of the year in the USCAA. We got a lot of momentum early that carried us the rest of the game."
Penn State DuBois returns to Small College World Series action at 6:30 p.m. May 15, at Showers Field, DuBois, versus Bryant and Stratton Albany.