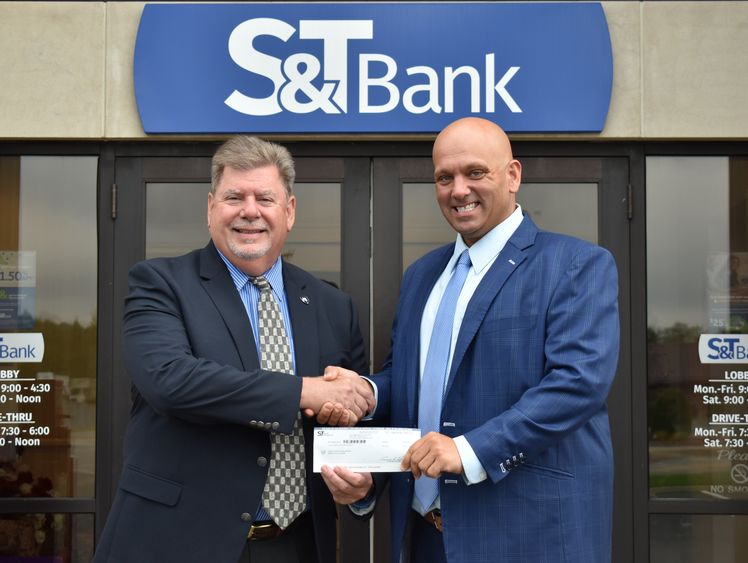 DUBOIS, Pa. — With a $30,000 gift, members of leadership at S&T Bank have established an Open Doors Scholarship at Penn State DuBois. Through the program, the University offered a 2:1 match to donors like S&T bank who made a minimum $30,000 pledge, payable over five years, to establish an Open Doors Scholarship before June 30. The University is currently offering a 1:1 match to gifts of $50,000 or more to create new Open Doors Scholarships.
Studies have found that only 50 percent of students from low-income households graduate in six years. The Open Doors Scholarship Program is aimed at addressing such issues by funding scholarships for students enrolled in programs that will address the financial, academic and personal challenges students face in graduating from Penn State. To date, the Open Doors Scholarship Program — between donor contributions and University matching funds — has generated more than $3 million for student scholarship endowments at Penn State DuBois.
S&T Bank was founded in 1902, with a single location in Indiana, Pennsylvania. The bank now provides a full range of financial services to families and businesses at 58 locations throughout the region. S&T was recently named to Forbes' 2018 Best-In-State Banks. Out of 25,000 consumers surveyed in every state, S&T Bank ranked second in all of Pennsylvania. The commitment to customers and the community is weaved in the very fabric of the Bank's culture. So far this year, S&T employees have volunteered over 3,000 hours of their time at food banks, animal shelters, and local libraries, while supporting organizations such as: The United Way, The American Cancer Society, Miracle League, and the Traveling Veteran's Memorial.
"We at S&T Bank believe soundly in giving back to the communities and the students in those communities, in which we serve," said Daniel Baronick, senior vice president and commercial banker for S&T. "They have both provided us with so much in return. This is a way we can continue in our belief to pay it forward."
The S&T Bank Open Doors Scholarship will help to advance "A Greater Penn State for 21st Century Excellence," a focused campaign that seeks to elevate Penn State's position as a leading public university in a world defined by rapid change and global connections. With the support of alumni and friends, "A Greater Penn State" seeks to fulfill the three key imperatives of a 21st century public university: keeping the doors to higher education open to hardworking students regardless of financial well-being; creating transformative experiences that go beyond the classroom; and impacting the world by fueling discovery, innovation and entrepreneurship. To learn more about "A Greater Penn State for 21st Century Excellence," visit http://greaterpennstate.psu.edu/
For more information on the Open Doors Scholarship Program, and all giving at Penn State DuBois, contact Director of Development Jean Wolf, at 814-372-3038 or [email protected] Or visit http://dubois.psu.edu/open-doors-scholarship-program.