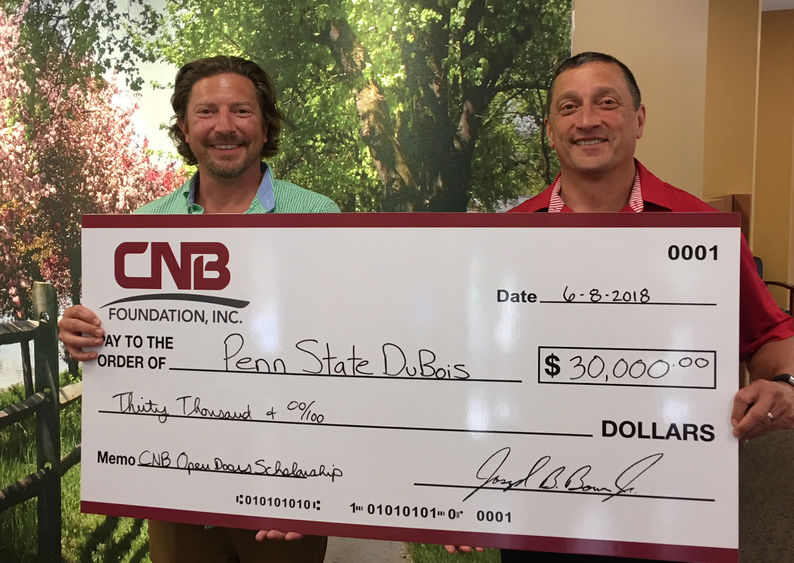 DUBOIS, Pa. — With a $30,000 pledge, CNB Bank of Clearfield has created an Open Doors Scholarship at Penn State DuBois.
The Open Doors Scholarship Program, with donor contributions and University matching funds, has generated nearly $2 million for student scholarships at Penn State DuBois. This unprecedented giving opportunity runs in its current form through June 30, 2018, offering the 2:1 match to donors who make a minimum $30,000 pledge, payable over five years, to establish a scholarship. Donors also can choose to donate any amount above $30,000, which the University will also match at 2:1. After June 30, the University will provide a 1:1 match to gifts of $50,000 or more to create Open Doors scholarships.
"CNB is committed to assisting students in achieving their personal goals," said CNB President Joe Bower. "This opportunity to have the scholarship matched 2:1 is a phenomenal chance to help in an even bigger way."
Studies have found that only 50 percent of students from low-income households graduate in six years. The Open Doors Scholarship Program is aimed at addressing such issues by funding scholarships for students enrolled in programs that will address the financial, academic and personal challenges students face in graduating from Penn State. At Penn State DuBois, 90 percent of campus students have a need for financial aid. Though $450,000 in scholarship dollars is currently awarded annually, many students remain in need. The average unmet need per student is more than $7,000 a year.
This gift from CNB Bank will help to advance "A Greater Penn State for 21st Century Excellence," a focused campaign that seeks to elevate Penn State's position as a leading public university in a world defined by rapid change and global connections. With the support of alumni and friends, "A Greater Penn State" seeks to fulfill the three key imperatives of a 21st century public university: keeping the doors to higher education open to hardworking students regardless of financial well-being; creating transformative experiences that go beyond the classroom; and impacting the world by fueling discovery, innovation and entrepreneurship. To learn more about "A Greater Penn State for 21st Century Excellence," visit greaterpennstate.psu.edu.