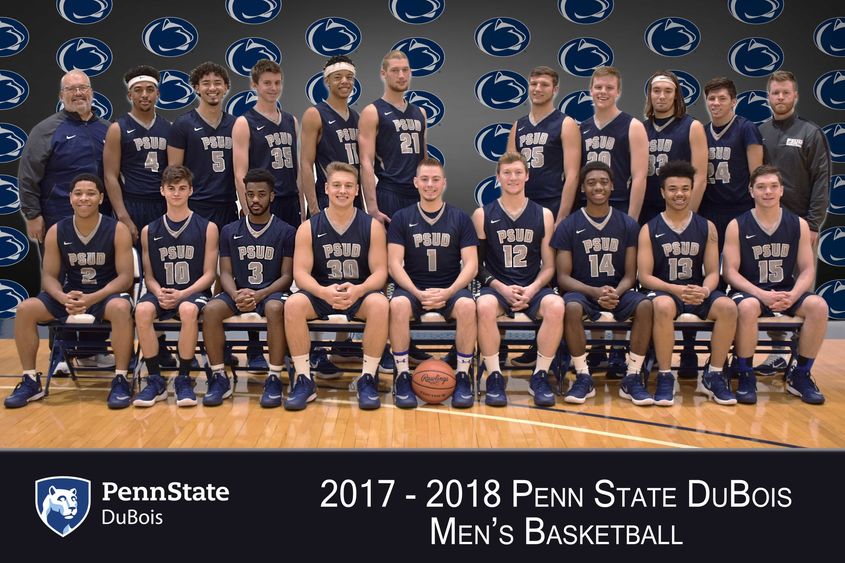 DUBOIS, Pa. — enn State DuBois remained unbeaten at home after a 80-74 victory over Penn State Greater Allegheny who was also unbeaten in PSUAC play. DuBois' shooting was key to the victory connecting on 50 percent from three and netting 22 free throws. DuBois got off to a hot start making 4 of its first 5 shots leading to an early 9-0 lead, DuBois would hold Greater Allegheny scoreless until a 3 point shot fell at the 16:46 mark.
Only two minutes later DuBois would stretch the early lead to 14-5 after two made free throws by freshman Kendrick Maye (Woodbridge, Virginia) and back to back three's from seniors Jake Perrin (Brockway, Pennsylvania) and Tristan Pierce (Lancaster, Ohio). Another pair of back-to-back three's from freshman Que Hayden (Pottstown, Pennsylvania) and Ramfis Rodriguez (Bethlehem, Pennsylvania) pushed DuBois' lead out to 24-11 with 11:57 to play in the half. The three's kept draining as another freshman Hesro Johnson III (Brandywine, Maryland) connected at 9:38 giving DuBois their largest lead of the half, 29-14. Greater Allegheny showed why they were ranked high in the USCAA coaches poll closing the half on a 16-6 run using size to pound the ball in the paint and dominate the remaining minutes of the half rebounding. DuBois lead 39-35 going into the break.
Another fast start to begin the second half saw DuBois leading 52-40 only 3 minutes and 52 seconds into the half. Sophomore Dylan Huey (Punxsutawney, Pennsylvania) sparked the run with a breakaway dunk. The game then saw a slow shooting display by both sides as only one free throw was scored from 16:08 to 12:35 by either team. DuBois continued to control the game keeping the lead and again pushing it to 71-56 with 4:30 remaining in the contest, Greater Allegheny made another run at it closing within three with 45 seconds remaining. DuBois smartly continued to get the ball to its sharp shooting senior guard Tristan Pierce as he went 6-6 in the final 45 seconds to close the game for the home team.
The box score was an odd one to say the least as Greater Allegheny would shoot 85 shots to DuBois' 56, Greater Alleghney grabbed 21 offensive rebounds to DuBois' 7, and DuBois would commit 21 turnovers to Greater Allegheny's 13. Cold shooting 26-85 and 5-30 from three plagued Greater Allegheny, compared to DuBois' 25-56 and 8-16 from three.
"I couldn't be happier with how our guys executed the game plan tonight, stated head coach Dylan Howard. "The coaching staff stressed how big of a game this was going into the break in PSUAC play. Greater Allegheny is a talented team that is well coached, their only two losses have been to Division 2 teams on the road with the one loss only by 6 and the game was tied at half.
"Being unbeaten at home is great, we start the second semester conference play with three straight at home, if we want to make the playoffs though we have to start playing well on the road."
Tristan Pierce led DuBois with 22 points on 6-12 shooting, 8-8 from the foul line, and grabbed 8 rebounds. DJ Hopkins (Huntingtown, Maryland) added 12 points and grabbed 8 rebounds, Jake Perrin poured in 10 points and also added 8 rebounds and 5 assists, Dylan Huey grabbed 8 rebounds to go with 8 points and Ramfis Rodriguez added 8 points of his own.
DuBois improves to 5-4 (3-2 PSUAC) and will finish the first semester at Division 2 Clarion University Dec. 18, and at Division 2 Malone University Dec. 19.