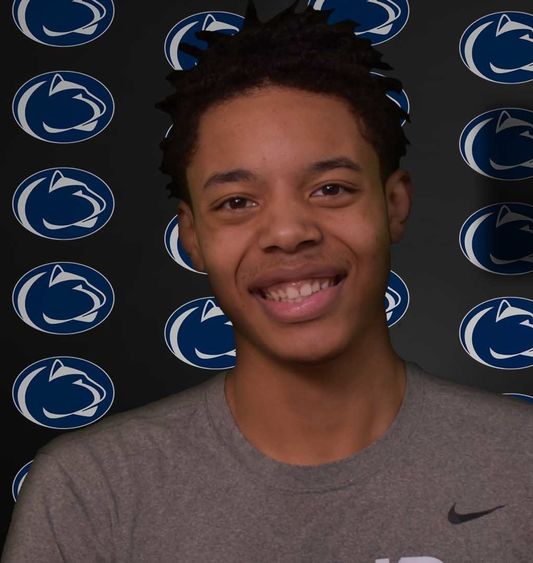 Penn State DuBois opened PSUAC play with a 80-64 win at Penn State New Kensington on Tuesday night. PSUD started off slow missing their first two shots as New Ken was able to connect on their first two 3 point attempts taking an early 6-0 lead moments into the game. PSUD was able to calm down, execute on offense and take the lead by the 15:00 minute mark. Both sides would struggle for the rest of the first half shooting the ball. (DuBois 18-40 45% and New Ken 15-36 41.7%) PSUD closed the half on a small run giving them a 6 point cushion going into half 47-41.
Coming out in the second half PSUD refocused on the defensive end holding New Ken to only 23 second half points on 22.2% shooting from the floor. New Ken also struggled from the 3 point arc going 0-8. PSUD used the defensive stops to get out in transition for easier looks at the basket. The biggest key to the win was PSUD's bench outscoring New Ken's 38-8. PSUD won the rebound battle 51-32 and after being tied 55-55 with 14:27 remaining they would close the game on a 25-9 run.
PSUD again used a balanced scoring attack Tristan Pierce (Lancaster,OH) 16 and 7 rebounds, DJ Hopkins (Huntingtown,MD) 13 points and 12 rebounds on 6-10 shooting off of the bench, Dylan Huey (Punxsutawney,PA) 11 points, Jaqueil Washington (Virginia Beach,VA) 9 points off the bench and Ramfis Rodriguez (Bethlehem,PA) scored 7 points off the bench in 9 minutes of play all in the first half as he was injured and did not play in the second half.
"To start conference play on the road with a double digit win is always a good thing," stated Coach Dylan Howard. "Our bench gave us a great lift, we are deep and every game it's nice to see different guys step up and play well. We still have yet to have a good shooting night, hopefully that will happen this weekend as we travel to play two championship level programs in back to back nights on the road."
PSUD will take there 3-2 overall record 1-0 PSUAC to PSU Mont Alto Friday night and PSU York Saturday afternoon. York and Mont Alto have won 4 out of the last 5 PSUAC Championships.