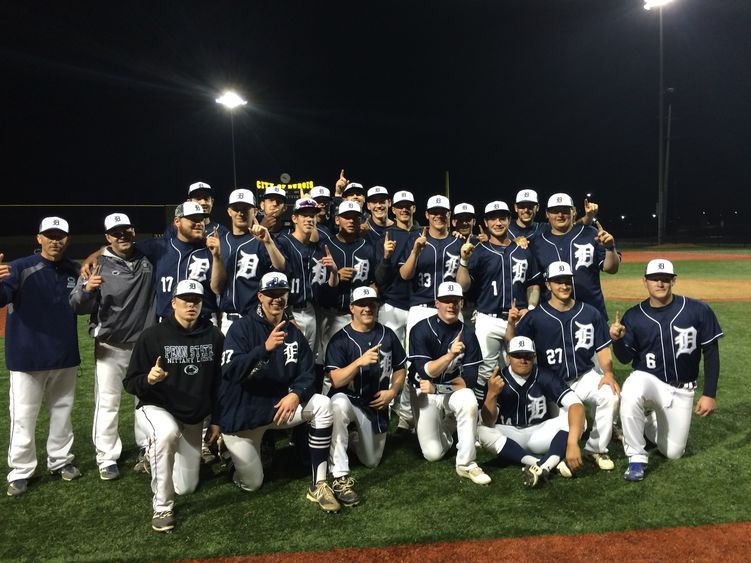 DUBOIS, Pa. — Penn State DuBois' head baseball coach Tom Calliari has announced the roster for the spring 2017 season, which he expects to be another winning campaign. The team is riding a high from last year, which ended with a fifth-place finish in the United States Collegiate Athletics Association (USCAA) Small College World Series in Great Falls, New York. This feat was achieved by the first baseball team Penn State DuBois had put on the field since 1993, when the program was eliminated due to budget issues at that time.
"Our expectations are very high going into the season, and each player knows that we have to take one game at a time, and take care of the little things in order for us to achieve our lofty goals," Calliari said.
The goals Calliari has in mind include another trip to the Small College World Series, which he hopes his team will win this time around. He said he's confident his players will face the pressure of last year's success and work for more.
"We are taking one game pitch at a time. However, we are going to embrace being the target. When you're the target, it means you're the team to beat. We are everyone's benchmark, so we have to match the level of intensity of our opponents," the coach said. "We need to prepare knowing that we are getting everyone's best shot. I'm very proud of the work everyone has put into this and hope the community comes out to watch us. They should be proud to know they have a legitimate college baseball program they can get behind and support."
The spring 2017 Penn State DuBois baseball roster is as follows:
| | | | |
| --- | --- | --- | --- |
| NAME | HIGH SCHOOL | POSITION | THROWS/HITS |
| Clayton Butler | Central Mountain | 1B/C/P | R/R |
| Colton Treaster | Penns Valley | C | R/R |
| Brandon Gettig | Bald Eagle Area | INF | R/R |
| Anthony Caruso | South Willliamsport | 1B/LHP | L/L |
| Josh Sorbera | Clearfield | C | R/R |
| Alessandro Marotto (Pedro) | Karns City | Util/P | R/R |
| Dom Kriner | DuBois/ UPJ | RHP | R/R |
| Caleb Bennett | St Marys/Pitt Bradford | INF/RHP | R/R |
| Zac Walsh | Essex CC | C | R/R |
| Noah Gordan | Westmont Hilltop | RHP | R/R |
| Dan Bowman | Central Cambria/ Shippensburg | RHP/INF | R/R |
| Austin Amacher | Ridgway HS | RHP/Util | R/R |
| Garrett Brown | DuBois H.S. | Util/P | R/R |
| Jesse Martin | West Branch | OF/LHP | L/L |
| Thomas Plummer | Clarion HS | RHP/OF | R/R |
| Alex Hart | Bowling Green/ Kiski HS | RHP | R/R |
| Jake Felix | DuBois HS | 1B/DH | R/R |
| Bryce Hanley | Central Mountain HS | LHP | L/L |
| Justin Orlowski | Grove City HS | LHP | L/L |
| Tallon Falls | Central Mountain HS | 3B | R/R |
| Nick Semanek | Bedford HS | RHP/3B | R/R |
| JJ Brestensky | Freeport HS | RHP/UTIL | R/L |
| Lance Pennigton | Punxsutawney HS | OF/LHP | L/L |
| Shane Haberberger | St. Marys/Pitt Bradford | Util/P | R/R |
| LJ Johnson | Penns Valley / Lock Haven Univ | LHP | L/L |
| Vince Mcdowell | West Branch | 3b/c | R/l |
| Brandon Orsich | Clearfield | Rhp | R/r |
| Kenny Heverly | Central Mountain | Rhp | R/R |