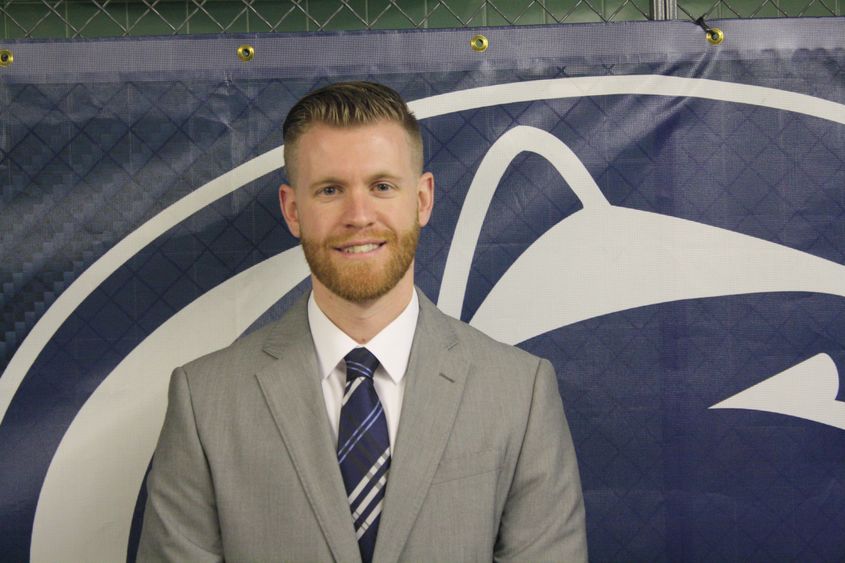 Penn State DuBois men's basketball head coach Dylan Howard has announced the 2016 recruiting class. The team will include 13 new players to preseason this fall. The new faces will join nine returners from last season's team that went 15-10 overall and earned the No. 5 seed in the PSUAC playoffs.
Dylan Huey (Punxsutawney, Pa) Dylan was a two year letter winner at Punxsutawney High School. He was also named team MVP his senior year. Twice a District 9 league all-star, third team all-district, and was part of a District 9 AAA championship. He also was a two year letter winner on the baseball team, winning four straight District 9 AAA championships. "Dylan was an important part of many championships. That experience will help the strive for returning to the conference championship" stated Howard. "Dylan's size, especially his wing span is something we needed to add from last year's team."
Ian Cheatle (McConnellsburg, Pa) Ian received two letters from McConnellsburg High school. In his junior year he was named honorable mention public opinion all-star. For his senior campaign Ian was a second team public opinion all-star and second team sideling hill all-star. Ian was also a key part to his team's second place finish in District 5 his senior year. "Ian is a very active player that fits well with our style of play. He is one of those kids that plays bigger than his size" said Howard.
Cordell Muthler (Lock Haven, Pa/Central Mountain High School) Cordell was a two year letter winner at Central Mountain High School. He also was a three year letter winner on the football team "Cordell is a great kid that will add work ethic on and off the court. His motor seams to always be in high gear" said Howard.
Donovan Boyd (Jackson, Mi/Northwest) Donovan was a three year letter-winner at Northwest High School in Michigan. He also lettered one year in track. His junior year he was named honorable mention Interstate 8 Conference, then in his senior year improving to be named third team Interstate 8 Conference. "Donovan gives us much needed athleticism and speed at the point guard position" stated Howard. "I look for him to get us going in transition as his game fits well with pushing the ball. He will also be disruptive on defense picking up in the backcourt."
Nathan Alabran (Marion Center, Pa/Marion Center) Nathan received two varsity letters from Marion Center High School where he also lettered three years in cross country and one year on the track team. In his senior year, Nathan was selected an Indiana County all-star for basketball as well as a state cross country qualifier out of District 6. "Nathan like Dylan, will also give us length at the 4 position with the ability to run the floor" stated Howard.
Jaqueil Washington (Slatington, Pa/Lincoln Leadership) Jaqueil was a three year letter winner at Lincoln Leadership High School. "Jaqueil will be another quick point guard to this class that will look to push the ball up the floor. On defense I also look for him to be disruptive in the back court" said Howard. Jesse Reynolds (Ridgway, Pa/Ridgway) Jesse received four letters each in basketball, baseball, and golf from Ridgway Area High school. Jesse was a two time all-District 9 all-star and Allegheny Mountain league selection. A former teammate of senior center Sam Roselli, Jesse played a large role in Ridgway winning a District 9 class A title and a District 9 class A runner-up in back to back years. The team also made the final four in the state during his time at Ridgway. "Jesse is a very active player with good size for a guard. He also comes from a good local high school program/coach." "His championship history is always something you want in your program" said Howard.
Kurt Schindler (Brookville, Pa/Brookville) Kurt was a three year letter-winner at Brookville High School. During his career at Brookville Kurt was a District 9 league all-star and also helped lead his team to a District 9 AA championship "Kurt will use his basketball IQ on both ends of the floor. Again, he is another guy that seems to have a motor and be able to play at a fast pace" said Howard.
Caleb Strouse (Clearfield, Pa/Clearfield) Caleb was a two year letter-winner at Clearfield High School as well as lettering four years on the golf team and two years of track. During his two letters for basketball, Caleb was a part of back to back Mountain League titles as well as back to back District 9 AAA championships. "Caleb exceled on the court and in the class room." "He also comes from a winning program that preaches defense first, this will help him with the transition to the college level." "He is the type of kid that we want to have in our program" said Howard.
Logan Pearce (Centre Hall, Pa/Penns Valley) Logan received four letters from Penns Valley High school where he had an impressive career. Logan led his school to their first-ever state playoff win while being named first team All-District 6, twice a Mountain League All-star, and a top 10 Centre Daily Times Inspiring Athlete. "Logan brings in good size at the guard position along with the ability to shoot, penetrate, and distribute. Along with these skills he also has a high basketball IQ, his possesses an all-around game. He is another guy in this class that comes from a successful senior season that made a deep run in the playoffs." said Howard.
When asked about the 2016 class Coach Howard stated "First, this class is a great group of student athletes. I look for them to come in and help build off the chemistry and success of last seasons team. Many of the guys came from high school programs with winning traditions, that characteristic is something we always look for. They will be focused, hard working on and off the court, and committed to each other. I feel good about the depth, size, and versatility of this class mixed with our nine returning guys."
Penn State DuBois will open the season on the road at Pitt Titusville Nov. 5. The home opener will be three games in on Nov. 14 against Westmoreland County Community College. They look to return to the PSUAC playoffs in back to back campaigns with the first PSUAC game being played Nov. 29 at home against Penn State New Kensington.