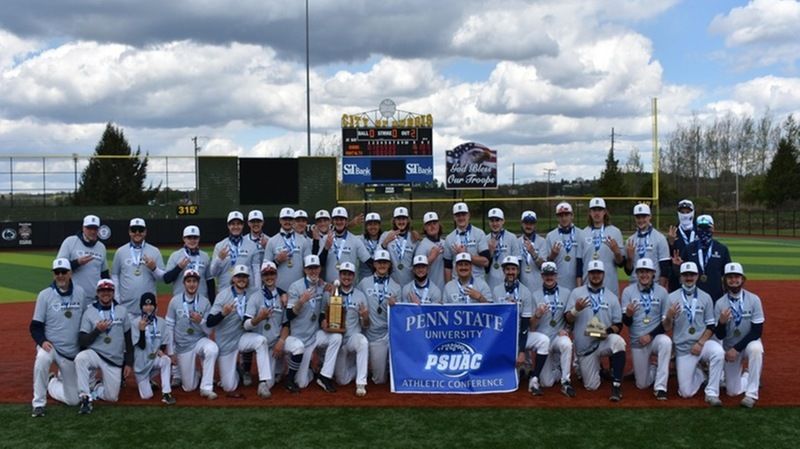 DuBOIS, Pa -- For the third season in row the Penn State DuBois baseball team has secured the Penn State University Athletic Conference (PSUAC) Championship, besting Penn State Mont Alto in the championship game 16-4 on Tuesday.
This year the Achilles' heel for DuBois was the No. 1 seeded Mont Alto team. Having lost three games to Mont Alto in the regular season, and one early in the playoffs, DuBois would have to take them down two times in this double-elimination tournament. Having won Monday night, DuBois put themselves in a winner take all position in the championship game. Not only were these two teams playing for the PSUAC crown, but also for the No. 2 seed in next week's USCAA World Series.
Coach Calliari called on Braiden Blair to start from the mound. Mont Alto got on the board first with one in the bottom of the first inning. DuBois came right back with a run of their own in the second thanks to Thayne Morgan's double that scored Daniel Stauffer.
Mont Alto took back the lead with another run in the second inning, but DuBois was able to score two more in the third off of a Logan Wagner single that scored Stauffer, and Talon Falls to go up 3-2.
Then the flood gates opened for DuBois, and their leaders took over. Stauffer hit a three-run home run to get the team fired up. DuBois scored five runs in each of the next two innings, and add three in the top of the sixth. Mont Alto scored another two runs, but DuBois wasn't going to go down on this day. They would be crowned the conference champions for the third time in as many seasons.
Senior catcher, Joseph Dipietro went 4 for 5 from the plate, Cory Lehman was 3 for 4, and Logan Wagner would go 3 for 3 with three RBI's. Stauffer went 2 for 2 with three runs and four RBI's on the game. Tanner Labenne had a three-RBI game, and Dipietro added two RBI's for the cause.
Blair went five innings for the win, allowing only two hits and two runs. Freshman, Taylor Boland came in for an inning of relief, had one strike out and threw only six pitches. Jacob Allen came in for the seventh inning to finish the game before DuBois was named the three-time PSUAC Champions.
DuBois will be the No. 2 seed in the USCAA World Series next week. Labenne will represent DuBois in the home-run derby on Sunday before games start on Monday. Game times will be announced later in the week from the USCAA office.