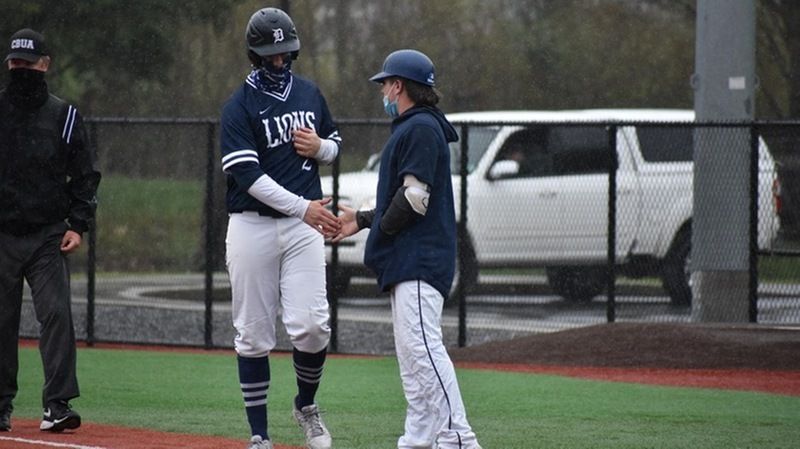 In the second round of the Pennsylvania State University Athletic Conference (PSUAC) Championship Tournament, Penn State DuBois took on the No. 2 seed in the East, Penn State Schuylkill. Brandon Orsich got the start for DuBois from the mound. The game ended in a 14-4 DuBois victory.
Schuylkill would strike first in the top of the first with a run scoring, and another two in the second inning to go up, 3-0 on DuBois. DuBois bats were hitting, but unfortunately right at the spots where the opposition was located.
Finally, in the third inning DuBois saw some life. Talon Falls hit a home run over the left center field wall to give DuBois their first run of the game. The top of the fifth would see Schuylkill score another run, and Coach Calliari would bring Morgan Bell in relief for Orsich to finish the inning.
Then in the bottom of the fifth, DuBois rally came alive. Cory Lehman started it off with a single, and Joseph Dipietro added a single before Daniel Stauffer would walk to load the bases. With two outs Trevor Hanna would also draw a walk to score the first run. Two more walks from Logan Wagner and Thayne Morgan would score two more runs before Luke Salvo would reach on an error that would score two more runs. PSUAC RBI leader Toner Corl singled to bring two more runs across the plate. Falls would get another RBI from a single that scored Corl, and Stauffer would reach on an error that would score Lehman after he singled again.
DuBois would score 10 runs in the inning to take the commanding lead, 11-4.
Braden Blair would come in to finish the game off for Bell in the sixth and seventh innings.
The sixth started off with a Zane Morgan walk, and after he stole second, Corl would smash a double to drive him in. Lehman would hit another double to score Corl, and Dipietro would single to again score Lehman for another three runs in the inning.
DuBois would go on to win the game 14-4, and advance to the semifinals tomorrow to face the loser of the Mont Alto vs Brandywine game. DuBois will play that game tomorrow at 1 p.m.
Orsich would struggle a little from the mound as he would go four-and-a-third innings, giving up eight hits, but also striking out six batters. Orsich would hit his 100th career strikeout in the process.
Blair and Bell totaled two-and-two-thirds innings, with Blair striking out three, and allowing no runs between them.
Lehman had a great day at the plate, going 5 for 5 with a double and three runs scored. Corl knocked in three runs, and Falls, Stauffer, and Salvo would each have two RBI's.