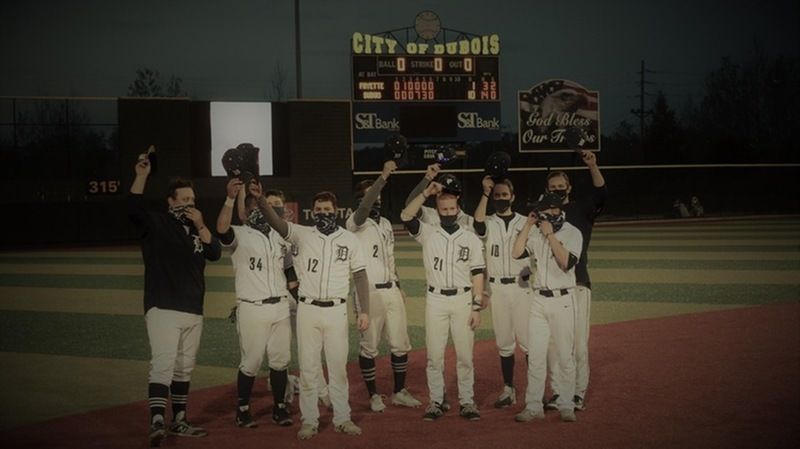 DuBOIS, Pa - Friday night at Showers Field the crowd did what they could to give the seniors on the Penn State DuBois baseball team their proper due, but at the end of the night it was again the seniors who, in their typical fashion, gave the crowd even more to cheer about as they swept a doubleheader against Fayette 10-1, and 6-5.
Brandon Orsich took the mound for his final regular season home game as a pitcher, and didn't disappoint. Visiting Fayette would manage to squeeze one run across the plate early to take the lead, DuBois bats would get going hard in the fourth and fifth innings. Brandon Sicheri and senior Frank Stefko both singled to get things going. Then, with two outs, Toner Corl joined Orsich in bidding farewell to his home of Showers Field in regular fashion as he belted a double that would score two runs, and get the ball rolling for DuBois.
Not to be outdone, Joey Dipietro wanted to do the same on his senior night and drove in Corl with a double of his own. Senior Zane Morgan hit a single, then Toner Falls, also a senior brought Morgan and Dipietro across the plate with a single as well. Two more runs would score in the inning thanks to Sicheri, and a double by Luke Salvo as DuBois took the lead 7-1.
Orsich continued dealing to keep Fayette at bay, and in the bottom of the fifth Corl hit another doubel to bring two more runs across the plate. Dipietro would come up and single to get Corl home, and DuBois would get their final runs to take a 10-1 lead.
Senior Josh Sorbera got the call to catch Orsich in his last inning of work before another senior, Blaise Roush would come in to close out the game from the mound.
Other pitchers receiving recognition who were not available to pitch were David Kozlowski, and Jacob Allen.
Orsich would finish the game allowing only three hits and one run through six innings, and striking out four batters. Roush threw one scoreless and hitless inning of work.
Corl ended the game with two doubles and four RBI's. while Dipietro would finish with two doubles and two RBI's. Falls had a double and two RBI's to help, and Sicheri hit a triple and two RBI's.
Morgan Bell started game two for DuBois, and although gave up two runs early on in the first inning, quickly came back around and got in his groove. In the third inning Sorbera drew a walk before Cole Breon would smash a triple to score the run. Brett Beith hit a SAC fly to score Breon to get things started on the board for DuBois.
Samuel Cheng came in for relief of Bell for one-and-a-third innings of work before Daniel Stauffer would come in to finish off the night.
One more run would score in the fourth thanks to a solo home run from Salvo. In the sixth Salvo and Dipietro delivered RBI's to score two more for DuBois, but Fayette would score another run in the top of the seventh to tie the game.
In the bottom of the seventh, Stauffer would crush a double off of the left field wall to get things set in place for another walk off situation for DuBois. Falls stepped to the plate and drilled a double down the right field line to score Stauffer and win the game, 6-5.
Bell finished the game giving up only six hits through five innings of work, while Cheng would give up only two. Stauffer got the win in his two-thirds of an inning outing.
Stauffer, Falls, Morgan, and Dipietro would all have doubles for the game.