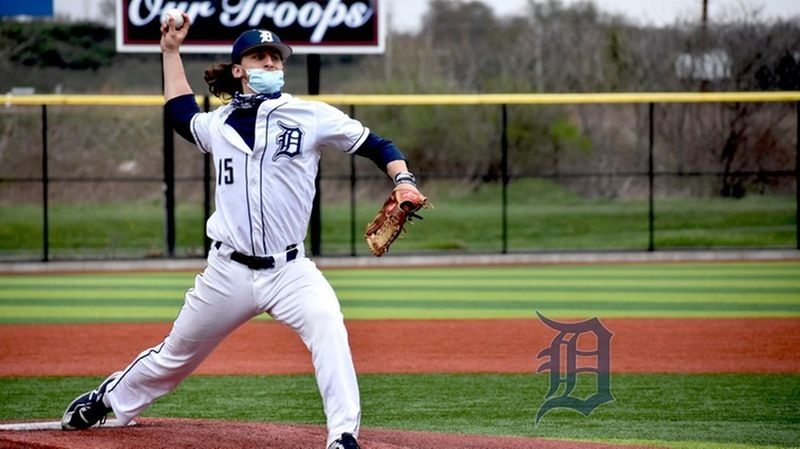 Penn State DuBois baseball had their hands full with Penn State Greater Allegheny this weekend. After splitting with them on the road in a doubleheader on Saturday, (3-1, DuBois and 4-2 Greater Allegheny) DuBois came back home on Sunday to host them in a doubleheader, sweeping both contests 3-2, each.
On Saturday, Brandon Orsich would control the mound for DuBois, and give up only three hits on the day. DuBois bats were a little slow going, but they would get a run in the second inning. Daniel Stauffer would double before Cory Lehman would reach on an error to score Stauffer. In the third, DuBois would strike again with two more runs. Thayne Morgan, Toner Corl, and Joey Dipietro would all single, and Morgan and Corl would both score.
Those would be the only runs for DuBois, but it would be enough as they would go on to win game one, 3-1. Orsich would throw a complete game, allow only one run, and strikeout eight batters.
Morgan and Dipietro would both be two for three on the game.
Game two saw Morgan Bell on the mound picking up where Orsich left off in the first game. Bell would throw a complete game, and have six strikeouts, but would give up four runs. DuBois bats couldn't give much of a hand in this one either, as they only scored two runs late in the game. One run came in the sixth as Talon Falls would get Morgan across home plate, and another in the seventh as Corl would score Brandon Sicheri. DuBois would drop game two, 4-2.
On Sunday, game one start went to Trevor Hanna, who has not lost a game yet this year from the mound. Greater Allegheny scored first in the second inning, and one in the fifth. DuBois would grab one run in the fourth off of a two-out double from Daniel Stauffer that scored Cory Lehman after he earned a walk to get on base.
DuBois would score another run to tie the game in the fifth with a single from Toner Corl that would score Thayne Morgan. The game would stay tied after seven to force an extra inning. With the bases loaded in the bottom of the eighth, and Trevor Hanna at bat, the Greater Allegheny pitcher balked. That would advance the runners, and score Jake Allen to win the game, 3-2 with a walk off balk.
Hanna finished the game with fie strikeouts, and allowing only two runs. Samuel Cheng came in to relieve Hanna for one-and-a-third innings, giving up only one hit. Daniel Stauffer finished the game, allowing only one hit in one-and-two-thirds innings.
Stauffer would have the only extra base hit of the game, and both Stauffer and Zane Morgan went two for three in game one. Thayne Morgan would add two stolen bases.
Game two was time for Braiden Blair to get the start from the mound. Greater Allegheny would again score first in the top of the second inning with a pair of runs to go up, 2-0. It would take DuBois until the bottom of the sixth to get a run across the plate thanks to a pair of doubles by Lehman and Stauffer.
DuBois was down 2-1 headed into the bottom of the seventh. Brett Beith would get safely on first with a single before Zane Morgan grounded out, but advance Beith over to third base. Hanna came up big with the tying RBI single to score Beith to make it 2-2.
Greater Allegheny then intentionally walked Corl. Joey Dipietro came up with a big single to load the bases for Lehman. Lehman hit into a fielder's choice, but bases would still be loaded with two outs. Stauffer came to the plate to try to seal the game for DuBois, and with a walk off balk in the first game, everyone was ready to see the exciting finish from game two.
Par for the day, it wouldn't be a walk off home run today, but a walk off hit by pitch that would score the winning run for DuBois. DuBois narrowly swept the day, winning game two, 3-2.
Blair pitched a complete game, giving up only five hits and striking out six. Beith went two for three from the plate, and Stauffer had two RBI's on the game.