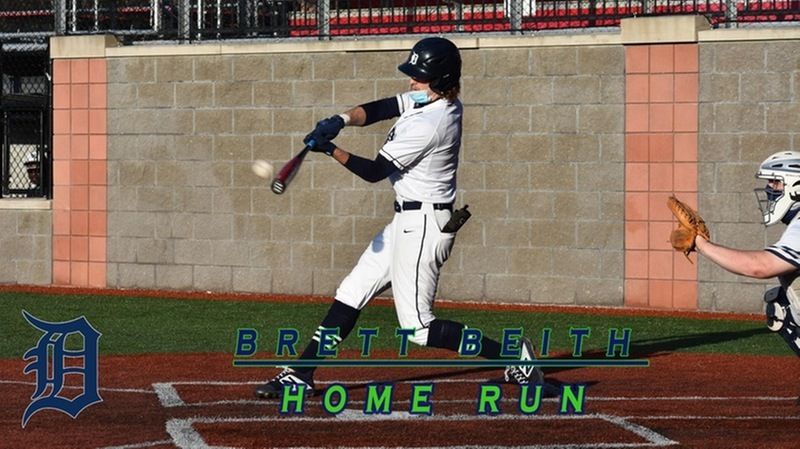 The Penn State DuBois baseball team hosted Penn State New Kensington Wednesday night at Showers Field for a conference doubleheader. DuBois would shut out their opponent in both contests, 7-0, and 8-0.
Coach Calliari went with sophomore Jake Allen to start on the mound for game one. Allen gave DuBois a strong start as he allowed only two baserunners through four innings. Allen hit one batter, and another singled, but quickly was thrown out by catcher, Daniel Stauffer.
DuBois bats started scoring in the bottom of the second, as they put up three runs after a Brandon Sicheri walk and a stolen base. Josh Sorbera got an RBI off of an error to score Sicheri. Brett Beith and Toner Corl both singled to bring two more runs across the plate before the inning ended.
Another run was added in the fourth from a stolen base and a wild pitch as Thayne Morgan pinch ran for Stauffer after his double.
Braden Blair came in for an inning of relief in the fifth, allowing no runs, no hits, and striking out one. Blaise Roush and Brandon Sicheri came in for one inning each after Blair, and gave up only two hits, allowing no runs to keep the shut out on the game.
DuBois scored a few more insurance runs in the fifth before Beith came up to bat in the sixth and crushed his first collegiate home run.
DuBois won game one, 7-0. Morgan had three stolen bases for the game as he moved into second place in the conference for stolen bases. Beith, Corl, and Stauffer all went two for three on the game.
Nolan Walters would get the nod to start the night game of the double header, and go through three innings of work with four strikeouts.
Sophomore third baseman, Tyler Yough would get the scoring started in the second inning as he drove in pinch runner for Luke Salvo, Brandon Sicheri for the first run of the inning. Beith would then double to score two more, Trevor Hanna would single for another RBI, and Cory Lehman would fly out to center to bring in the fifth run of the inning.
DuBois would score three more runs in the sixth inning after Corl would hit a three-run shot to score Frankie Stefko and Morgan.
DuBois pitching staff would get some work in as Samuel Cheng, Morgan bell, Brandon Orsich, and Beith would all come in for 1 inning of work. The staff would keep New Kensington scoreless in game two as well.
Morgan went three for four with a triple and a double, and Hanna was two for two on the game. Hanna and Corl are now tied with each other for most RBI's in the conference.
DuBois will be traveling to Greater Allegheny on Saturday for a doubleheader, and return home on Sunday for the same series against Greater Allegheny starting at 1 p.m. DuBois is now 14-2 overall, and 11-2 in the conference as they remain tied for first place in the PSUAC West Division.