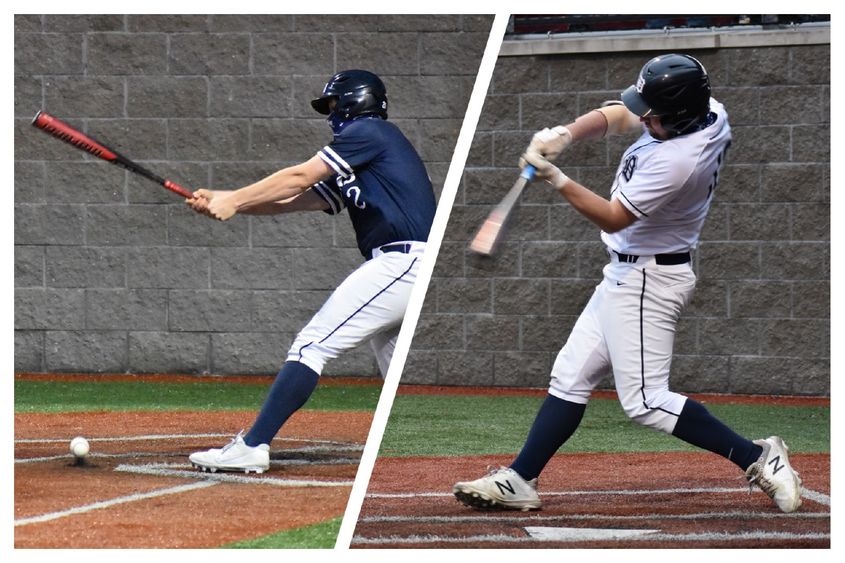 DUBOIS, Pa. — The Penn State DuBois baseball team has not only given 100% effort this year, but two players marked their 100 career hit milestones recently.
Senior Toner Corl smashed his 100th hit on April 5, at home against Penn State York. Senior Talon Falls recorded his 100th hit on March 24, in a home contest against Penn State Beaver. Making this accomplishment even more meaningful, both Corl and Falls are graduates of Central Mountain High School and are from Mill Hall, Pennsylvania.
Corl, a business administration major, now holds 6th place on the all-time hit list for DuBois. With a .349 batting average, he was named the 2019 USCAA Small College World Series MVP. He also holds 5th place for all-time doubles for DuBois with 22, and is 2nd in all-time RBI's for DuBois with 69.
Head Coach Tom Calliari said, "Toner has been the heart and soul of this team this year. His leadership skills are unmatched. He's a true competitor. He will be a tremendous attribute to anyone who hires him someday as his leadership skills are off the charts. It's been a true honor to coach Toner Corl."
Corl shared, "Reaching 100 collegiate hits means a lot to me. It's always nice to reach career accolades and to do so at home in front of our fans made it even sweeter."
Falls is now in 5th place on the all-time hit list at DuBois. The third baseman is also 4th in doubles for the team at 23, and tied with fellow player Brandon Gettig at 3rd place for RBI's at 62. The information technology major holds a .390 batting average.
"Talon is one of the most gifted hitters that's been through this program," said Calliari of Falls. "His sophomore year it was a shock when he made it out. He is one of the kindest people I've ever met — a phenomenal teammate, a tremendous hitter, but most importantly a great person. He will be an unbelievable husband and father someday."
Falls added, "I feel accomplished to get my 100th hit and I'm happy that I'm helping my team work towards another championship."