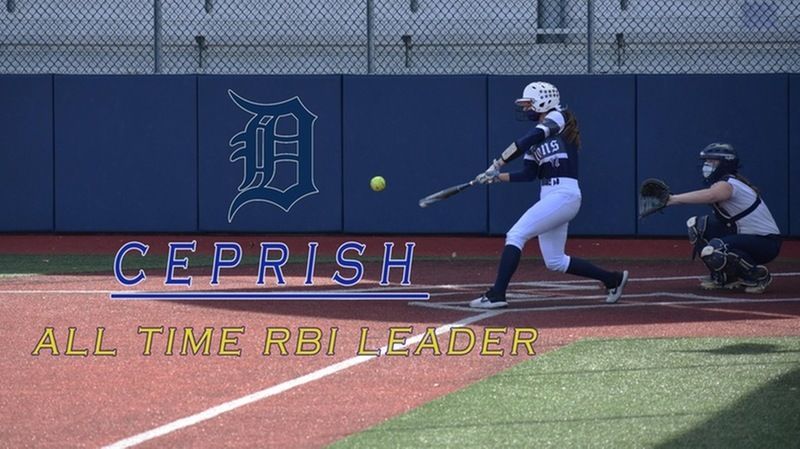 Penn State DuBois travelled to Penn State Schuylkill yesterday for a Pennsylvania State University Athletic Conference (PSUAC) East Divisional doubleheader. DuBois came into the day at 5-3 in the division, putting them in second place behind Penn State Hazleton. DuBois would sweep the doubleheader 12-1 in game one, and 14-6 in game two.
Coach Kern gave the start for game one to Lizzy Scott (West Branch), who is currently leading the conference in wins (nine), strikeouts (82), and ERA (1.30).
DuBois would get on the board first with a run in the top of the first inning. Lead-off hitter Brooke Harvey (Northwest) would start things off with a walk, and find her way around the bases to an eventual run off Aspen Bishop's (Clearfield) ground out up the middle. DuBois would knock in another run in the second inning when Larissa James-LaBranche (Kettle Run) scored on a pass ball to go up, 2-0.
As Scott and the defense would continue to hold Schuylkill scoreless through four innings, DuBois would come to the top of the fifth trying to add some insurance runs to their lead. With both Bishop and Cierra O'Shell (Glendale) getting on the bases with singles, Skylar Ceprish (West Branch) would drive them both in with a double. Malliah Schreck (Cranberry) would come up to the plate next and score Ceprish with a double of her own.
Schuylkill would add a run in the bottom of the fifth, but DuBois would come back in the seventh with a barrage of runs. With the bases loaded Harvey would draw a walk to score Brittney Williams (Conneaut), and O'Shell would smash a single to score two more runs. Bishop hit another double to score another set of runs before Schreck would drive in Bishop with a single. With the bases loaded again Ceprish would score the final run of the inning when James-LaBranche would find her way to first after getting hit with a pitch.
DuBois would win the game with a final of 12-1. Scott would get the complete game win as she allowed only six hits, and struck out nine batters. DuBois would total 12 hits and five stolen bases for the game.
Game two saw Harvey as the starting pitcher for DuBois. Harvey's teammates helped with a three-run first inning. Ceprish would score Harvey off a single that tied Ceprish for all-time most RBI's for DuBois with former teammate, Laura Fatula. Schreck would then come to the plate and hit a monster of a shot for her first collegiate home run of her career.
After a back-and-forth attack from each team, at the end of four innings DuBois led, 9-6. Another boost came in the top of the fifth however, as Bishop would start things off by driving in Harvey for the first run of the inning. Ceprish would then single in O'Shell to give Ceprish the out-right all-time lead in RBI's with 52. This would be in fitting fashion as O'Shell became the all-time leader in hits for DuBois just two weeks ago, also passing former teammate Fatula. Williams would then single in another run in pinch runner Hailey Kuhn (New Oxford) before Ceprish would score on a pass ball.
On the performances of Ceprish and Schreck, Coach Kern said, "Malliah's home run was just a matter of time. We see her power and the ability to drive a ball in practice, so it was no surprise to us. That two-run home run was huge because it gave us a 3-0 lead before Schuylkill even came to bat in game two." He continued, "Regardless of the situation, Skylar never seems to get rattled. Her approach stays the same and she doesn't try to do too much and that has given her the ability to provide some big hits for us. Her breaking the RBI record is also a testament to all of her teammates that have been able to get on base in front of her and help give her the ability to break that record."
DuBois would score one more run in the seventh and go on to win the game, 14-6. Harvey would not only go 4-4 from the plate, but also struck out two batters in four innings of work, and get the win. Williams would come in to work two innings, allowing no runs to score, and striking out three batters.