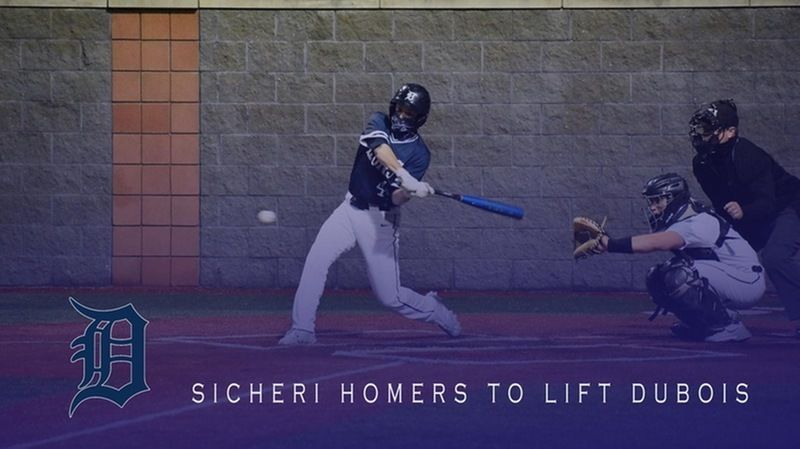 Penn State DuBois took a road trip to Washington, Pennsylvania, Tuesday night to take on Penn State Fayette in a single, nine-inning PSUAC West Divisional matchup. Coach Calliari gave the start to Brandon Orsich (Clearfield) who came into the game 3-0 on the season. DuBois would take the victory 8-1.
Orsich forced three straight groundouts in the first inning to retire Fayette hitters in order. The top of the second showed some excitement as Brandon Sicheri (St. Marys) hit his first collegiate home run to give DuBois the lead, 1-0.
The bats warmed up for the entire lineup by the fourth inning when Cory Lehman (Tyrone) smashed a double that scored Joey Dipietro (Punxsutawney). Two straight walks from Dan Stauffer (Elk County) and Sicheri would load the bases for Thayne Morgan (Clearfield). Morgan would get Lehman across the plate on a single before Toner Corl (Central Mountain) would belt a sacrifice fly to center to score Stauffer that would put DuBois up, 4-1.
Orsich continued to deal from the mound, allowing only one run to score in the third. The top of the fifth saw another barrage from the DuBois sluggers. Dipietro legged out a triple to put him tied for fourth on the all-time triples list for DuBois. Pinch runner Cole Breon (Penns Valley) would score off a sacrifice fly from Lehman. Morgan would get another RBI as he singled to score Stauffer, and DuBois would now lead 7-1.
One more run for DuBois would come in the sixth inning from Trevor Hanna's (Central Mountain) sacrifice fly that would score Corl, who reached on a triple.
Orsich would finish his night on the mound after six innings of solid work. In 25 batters faced he struck out five, and allowed only five hits. Sam Cheng (Coral Reef) would come in relief for two innings of work, striking out two of the six batters he faced, and didn't allow any hits. Stauffer would come in to finish the game in the final inning as DuBois would win the game, 8-1.
DuBois will be back home at Showers Field on Friday to take on visiting Penn State Beaver.