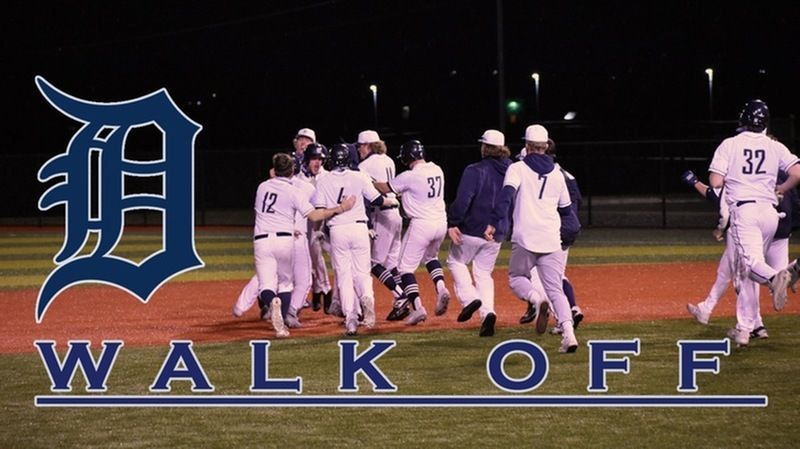 Penn State York came to town Monday night to take on DuBois in a single, nine-inning game at Showers Field. Coach Calliari gave Blaise Roush (Mifflin) the nod to start on the hill for DuBois. Calliari would use seven pitchers in this extra-inning game, but it was worth it in the end as DuBois pulled off the victory, 7-6, in 10.
Toner Corl (Central Mountain) would get on base with a walk in the bottom of the first inning, and continue his way around the bases with three steals to get the first run of the game for DuBois. That wouldn't be it for Corl though as he came into the game with 99 career hits, looking for number 100. In the bottom of the fifth inning Corl stepped up to the plate and smashed a double to left center field for hit number 100.
Joey Dipietro (Punxsutawney) would then hit a single that would score Corl, and advance Talon Falls (Central Mountain) who his own 100 career hit mark last week, to third. Trevor Hanna (Central Mountain) would drive in Falls and Dipietro to put DuBois up at the end of the fifth, 4-0.
York would score one run in the top of the sixth, and DuBois would counter that with a run of their own in the bottom of the seventh off of another Hanna single that would score Brandon Sicheri (St. Marys).
York would then slowly chip away at the lead with a big three-run inning in the eighth, and one run each in the ninth and 10th innings that would put them in the lead, 6-5.
The bottom of the 10th though would give DuBois another chance to take the win away from York. Thayne Morgan (Clearfield) would draw the walk and steal second to start the inning. Corl would fly out to center field for the first out, and Falls would then be intentionally walked. A huge hustle play by pinch hitter Tanner Labenne (Brookville) would get him on safe at first, and advance both of the runners to scoring positions. A fielder's choice by Sicheri would have Morgan thrown out at home, but still advance runners to keep two in scoring position.
Then came Hanna to the plate with two outs, and in true fashion Hanna laced a single between the shortstop and third baseman that would score both needed runs that won the game, 7-6.
Hanna would end the day from the plate going three for three, drawing one walk, and hitting five RBI's. Corl had two doubles on the night, including three stolen bases. Freshman Brett Beith (Lakeview) not only had a huge triple on the night, but also was the winning pitcher for the game.
DuBois will travel to Wild Things Park Tuesday to take on Penn State Fayette.