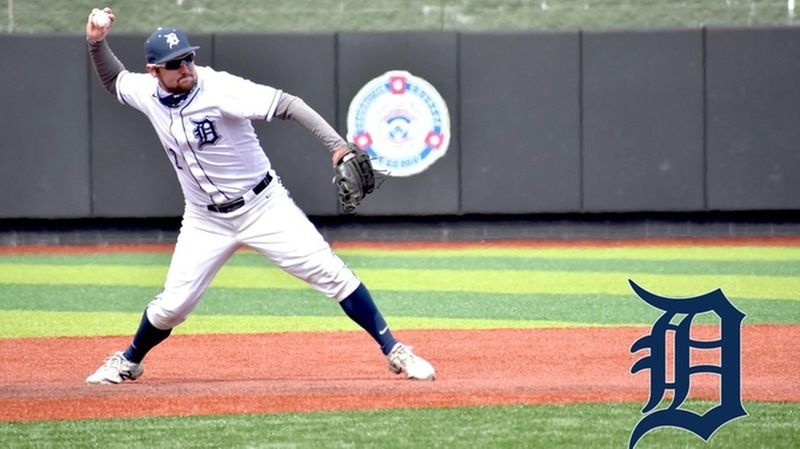 DuBOIS, Pa - Penn State DuBois baseball hosted a doubleheader against Mont Alto on Saturday in not only a divisional matchup, but a matchup between the two teams that are tied for first place in the PSUAC West Division. The last meeting between these teams saw a split series when DuBois traveled to Mont Alto on March 21. DuBois would come out on top in the first game, 5-0, but drop the second game with Mont Alto winning 2-1.
Trevor Hanna (Central Mountain) got the call from Coach Calliari to start on the mound in game one. Hanna's last start was against Beaver when he pitched a shutout through six innings, and earned the win. Hanna picked up where he left off from that game. The first three innings saw Mont Alto go three up and three down from the plate.
Joey Dipietro (Punxsutawney) knocked in the first run of the game in the bottom of the third inning with a single that scored second baseman Cole Breon (Penns Valley). Hanna then got some insurance runs from his team in the bottom of the fifth. Dipietro again drove Breon in to score, this time with a double that also advanced Talon Falls (Central Mountain) to third base.
Next up was St. Bonaventure transfer, Dan Stauffer (Elk County) with another double that scored both Falls, and courtesy runner Jacob Allen (West Shamokin). Next, for the third double in a row Cory Lehman (Tyrone) would drive in Stauffer for the fourth run of the inning that put DuBois up, 5-0.
Hanna would give himself plenty of help as he forced 12 groundouts, and struck out seven batters. He faced only 24 batters, and gave up only three hits in his complete game shutout.
Game two saw Morgan Bell (Somerset) get the nod to start on the mound. Bell kept Mont Alto scoreless through three innings, but in the top of the fourth two runs came across the plate from the opposition. The bottom of the fourth saw some light for DuBois as Lehman reached base on another double, and then found his way across the plate during a Brandon Sicheri (St. Marys) at bat that hit into a double play.
Stauffer would come in to replace Bell in the seventh, striking out two of the five batters he faced, but DuBois would be scoreless in the bottom of the inning.
Those would be the only runs for either team, and Mont Alto would go on to win game two to split yet another series with DuBois. These teams will face off one more time before PSUAC playoffs on April 20 at Mont Alto. DuBois' next game is slated for Monday evening as they host Penn State York.