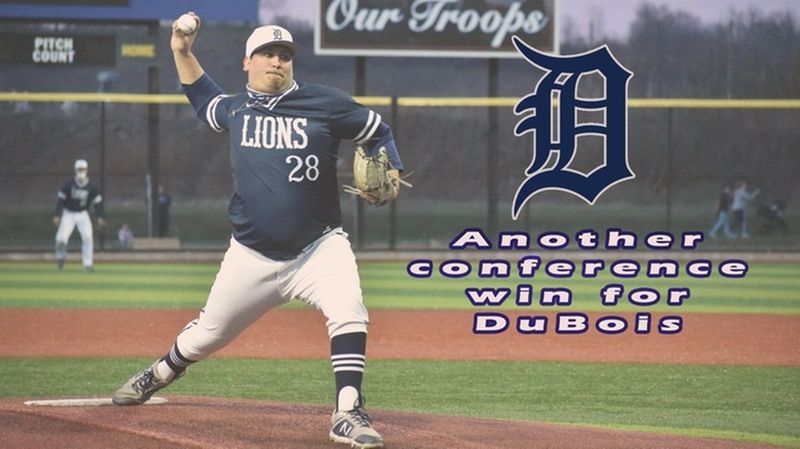 DUBOIS, Pa. — Penn State DuBois baseball played host to Penn State Greater Allegheny on Tuesday night at Showers Field for a single game PSUAC West Divisional matchup. DuBois came into the game in second place in the West, with Greater Allegheny hot on their heels in third place. DuBois would end with the win, 14-4.
Brandon Orsich took the mound for DuBois, and had a shaky start in the first inning giving up three hits, and allowing one earned run. His team was behind him and ready to pick him up on the offensive side however, as Talon Falls would bring Zane Morgan in on a sacrifice fly to right to get the train rolling.
Designated hitter, Cory Lehman would drive in two more runs before two Greater Allegheny errors would score Dan Stauffer and Lehman to put DuBois up 5-1 at the end of the first inning of play.
Greater Allegheny would score another run in the second, but DuBois would counter again with two more runs of their own to go up 7-2 through five innings. The fifth inning would be the last for the day for Orsich as he would exit with four strike outs, six hits, and allowing only two runs.
In the sixth inning shortstop Toner Corl would record two RBI's on a fielder's choice, and Josh Sorbera would score off of a Falls single to put DuBois up, 10-2.
Morgan Bell would come to the mound in the sixth for DuBois as he made quick work of his inning allowing only one hit, and struck out the final out of the inning.
DuBois would tack on three more runs In the bottom of the sixth, and although Greater Allegheny would score two more in the seventh, it wasn't enough to keep the game going.
Orsich would get the win from the mound to put him at 3-0 for the season. Corl would drive in four RBI's, as Falls, Lehman and Trevor Hanna would add in two RBI's each to help DuBois improve to 5-1 overall, and 3-1 in the PSUAC West Division standings.
DuBois is in action again Saturday as they welcome Penn State Mont Alto for an afternoon doubleheader.
A full schedule for this year's baseball season is available here.