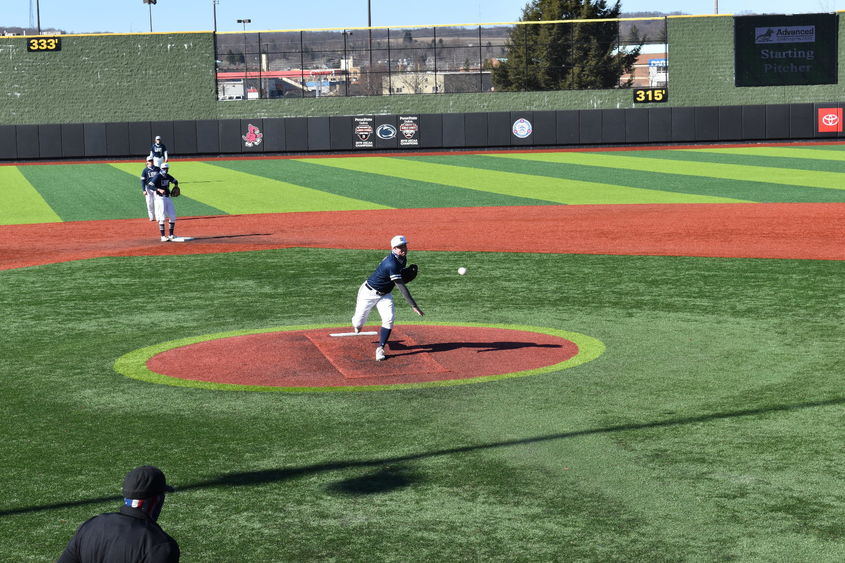 DUBOIS, Pa. — The Penn State DuBois baseball team played their first games Saturday since March of last year. They welcomed Penn State Schuylkill to Showers Field for a PSUAC double-header that did not disappoint the few fans that were allowed in attendance. DuBois swept the double header 9-1 in game one, and 16-9 in game two.
Senior Brandon Orsich took the mound for the first pitch of the year, and set the tone from the mound as the pitching staff gave up only 1 run, and that coming in the 9th inning off of an RBI from Schuylkill's first baseman, Javy Torres.
Orsich gave up only 1 hit in 4 innings of work, walked 3, and struck out 4 batters. Braiden Blair followed the act with 3 innings of work, giving up 2 hits, 3 walks and 2 strike outs.
Toner Corl, the reigning USCAA World Series MVP came in big at the plate as he drove in 4 runs for DuBois.
The second game started a little differently. A quick 2 runs in the bottom of the 1st inning would give DuBois the lead, but Schuylkill wasn't going anywhere yet. Scoring 7 runs in the 3rd, Schuylkill went up 9-2 going into the 4th. Coach Tom Calliari, giving all of his pitchers some work, allowed seven different pitchers on the mound for DuBois throughout the game.
As the rust fell off of the bats, DuBois started showing what they are capable of. Scoring 10 runs over the next two innings, DuBois took the lead back, and never looked back as they went on to win the second game, 16-9.
Morgan Bell would get the win from the mound, but the real win came from the bats. Six different hitters would find themselves with an RBI including Zane Morgan and Cole Breon who would each bring in 5 runs each. Morgan doing the majority of his RBI work with a grand slam in the bottom of the 8th.
DuBois will travel to Penn State Mont Alto next Sunday for a double-header starting at 1 p.m.
A full schedule for this year's baseball season is available here.
All home games can be viewed via livestream at https://psuduboisathletics.com/multimedia. Links will remain active following the games for those who wish to watch later.