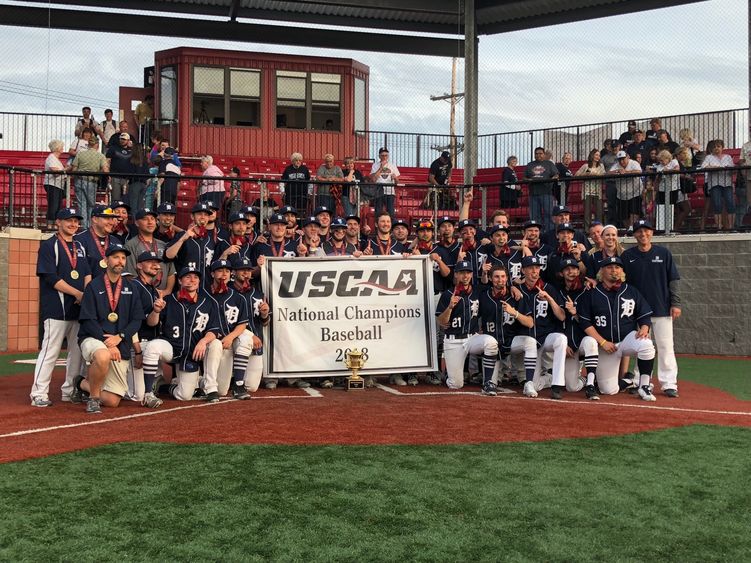 DUBOIS, Pa. — The Penn State DuBois baseball team secured the championship in the United States Collegiate Athletics Association (USCAA) Small College World Series on Thursday, May 17, at Showers Field.
Starting as the number 6 seed in the tournament, DuBois remained undefeated through the series until a 4-3 loss during their first game on Thursday against Builders. The Lions came back strong in the second game with a 10-2 victory, securing the championship in the double-elimination tournament.
"Before I was hired, my vision was to win and unite the community. We accomplished both in three years," said head coach Tom Calliari, noting the sold-out stands at Showers Field. "Looking at the crowd yesterday and just watching everybody celebrate in the stands was amazing."
The baseball program at Penn State DuBois was resurrected in 2015, having been eliminated from campus athletic program offerings due to budget reasons in the 1990s. In those three short years, the team has made two appearances in the USCAA championship, claiming the title this year.
DuBois now holds the distinction of being only the second team in any sport in the Penn State University Athletic Conference (PSUAC) to bring home a USCAA national championship. The first was the 2015 Penn State Beaver women's basketball team.
"I've surrounded myself with good people. Everyone on my staff is tremendous," Calliari said, attributing a team effort to the program's success. "They all do a phenomenal job. We have really high character guys. When you're getting up for 6 a.m. practices twice a week and nobody misses a practice, that tells you something."
Calliari said he is also thankful for support from the community and the campus. "The chancellor has been tremendous, he makes it to every game he can make it to. Everyone at Penn State DuBois, all of the staff, have been amazing," he said.
The Penn State DuBois Nittany Lions ended their winning regular season 31-11, and claimed a 17-1 conference record in the PSUAC. They were 4-1 in the Small College World Series.
For a closer look at the entire season, find Penn State DuBois Baseball on Facebook.