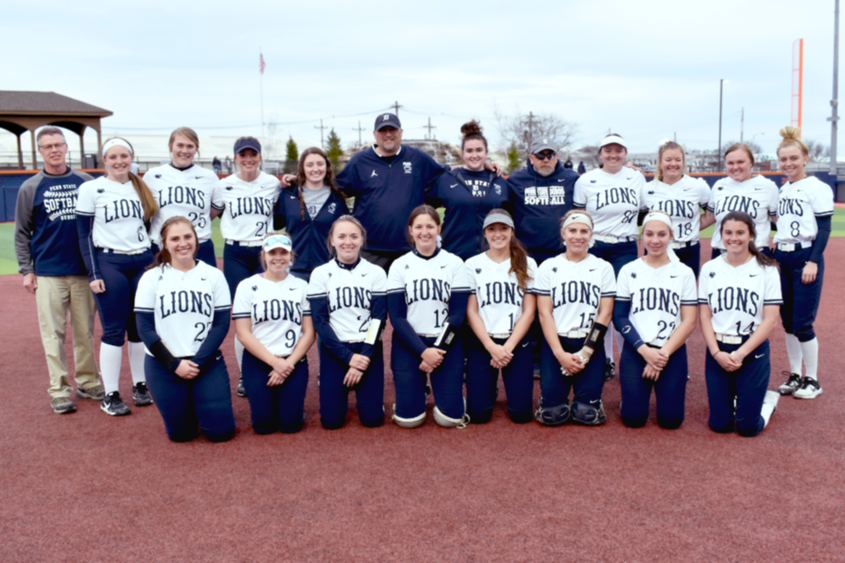 DuBOIS, Pa. — Penn State DuBois softball had a strong start in the Pennsylvania State University Athletic Conference (PSUAC) playoff tournament on Friday, April 30, with wins over both Penn State Brandywine and Penn State Beaver, advancing them to day two on Saturday, April 30. The PSUAC softball tournament brings in the top teams from the east and west divisions to compete.
With Lizzy Scott on the mound, DuBois competed against Penn State Brandywine, the number one seed in the conference, in the first game to come out on top with a win, final score of 11-10 in an extra inning of play. Brandywine held the lead through the first three innings, with DuBois making a big comeback in the fourth to score a total of eight runs. Brianna Bone and Kelsey Stuart each had four RBIs with runs scored balanced across the team.
In the second game of the day, Scott started strong with nine strikeouts before Kelsey Stuart entered, earning the win pitching for Penn State DuBois. The fourth inning proved critical for DuBois again, scoring five of the seven runs that won them the game. Scott, Skylar Ceprish, and Larissa James-LaBranche each excelled with two RBIs and Larissa James-LaBranche scoring two runs.
Saturday, April 30th, DuBois again faced Penn State Brandywine in the double-elimination tournament. Brandywine came hungry and launched an offensive attack on Penn State DuBois early in the game. Going into the seventh inning, Penn State DuBois was down 6-3, but rallied for a final push with an additional two runs scored. Paige Plata and Cayleigh Huffman each it doubles, with Pleta also earning two RBIs on the day.
The tournament led to Penn State DuBois facing Penn State Brandywine for the third time in the first two days of the PSUAC playoffs, for their fourth game. Brandywine came in strong, starting the competition with seven runs in the first inning. DuBois encountered offensive roadblocks, and ended their tournament run with a loss, 11-0.
While the Penn State DuBois PSUAC season may be over, the team is anxiously awaiting the USCAA Bid Show, taking place on Sunday, May 8, at 5:30 p.m. to see if they've earned a bid to the USCAA Small College World Series.