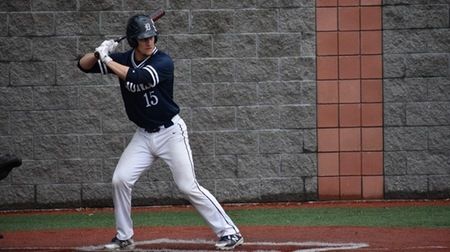 DUBOIS, Pa., - Penn State DuBois baseball brought home wins from Friday's Penn State University Athletic Conference play at Penn State New Kensington.
Morgan Bell, a senior from Somerset, started on the mound for game one of the double header, with Braiden Blair and Trevor Hanna to follow. Offensive support from teammates was quickly found as Hanna hit a double and Tyler Yough hit a triple to bring Hanna in for the first run of the game. Hanna went on to hit another double in the top of the third inning.
In the top of the fifth inning, Dylan Treaster broke a 4-4 tie with a homerun, bringing Penn State DuBois into the lead to win game one with a final score of 6-4.  
The second game in the series saw Nolan Walters as the starting pitcher, with teammates scoring six runs in the first two innings, keeping Walters at ease on the mound. Walters earned five strikeouts in four innings of play.
Daniel Stauffer excelled with a homerun and five RBIs, while Thayne Morgan stole multiple bases throughout the game. DuBois swept the series with an 11-2 final score in game two.
Penn State DuBois baseball continues this week with home play against Pitt-Bradford at 6:30 p.m. Wednesday, March 30, and at 6:30 p.m. Friday, April 1 against Penn State Mont Alto, both to be played at Showers Field.
Penn State DuBois softball continues home conference play at Heindl Field this week also with games at 4 p.m. and 6 p.m. Friday, April 1, against Penn State Schuylkill, and at 2 and 4 p.m. Saturday, April 2, at against Penn State Brandywine.
For full and up to date schedules, visit https://www.psuduboisathletics.com/landing/index.