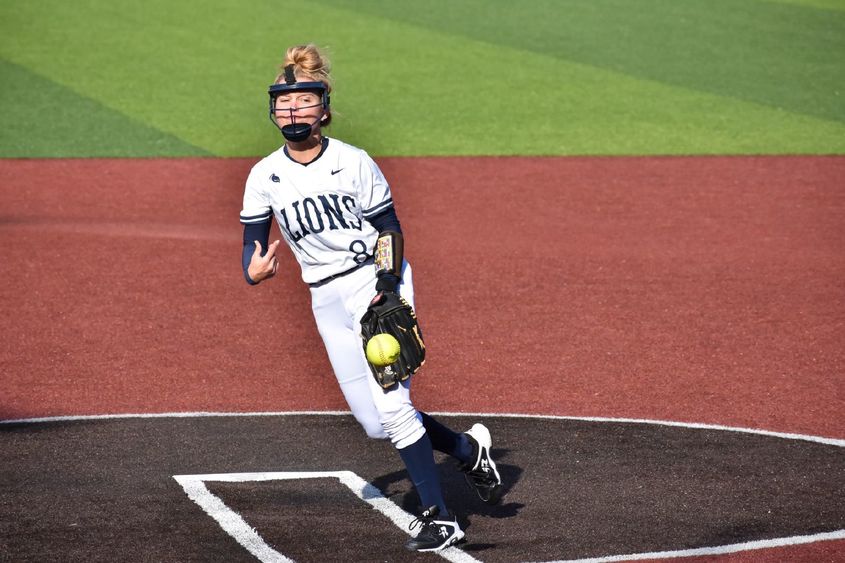 Surpassing former Penn State Beaver pitcher, Vanessa Jackson, Penn State DuBois softball player Lizzy Scott, a senior from Morrisdale, Pennsylvania, broke a new record Monday with the most strikeouts in the Pennsylvania State University Athletic Conference (PSUAC) with a total of 456 strikeouts to date in her softball career.
Scott set the new record during the second game of Monday's double-header against Penn State Schuylkill, played at Heindl Field. She is the 2021 USCAA Softball Player of the Year and also holds the Penn State DuBois record for most strikeouts.
The match-up between Schuylkill and DuBois proved to be a split one, with Schuylkill winning the first game with a score of 16-4 and DuBois coming out on top for game two at 5-4.
The lady lion's season continued on Tuesday with another double-header at home against Penn State Beaver. Scott earned another win on the mound, starting the game off for Penn State DuBois. Game one remained tied until the bottom of the seventh, when Skylar Ceprish drove in the winning run, ending the game 5-4.
The second game continued to be exciting, with Shyanne Lundy hitting a home run over the center field wall, bringing in an RBI. Game two also remained tied, entering the teams into extra innings. Lundy earned her second RBI in the bottom of the ninth, driving in a run to end the series in a sweep with a final score of 5-4.
The Penn State DuBois baseball team also had a split week. In a series with Penn State Mont Alto, the team took games one (6-2) and two (1-0) at Mont Alto on Saturday and suffered a loss (9-5) at home on Sunday.
Tuesday, the baseball team hosted the Clarion University Golden Eagles for a single nine-inning game. Braiden Blair started on the mound for DuBois, keeping the game tied 1-1 through the beginning of the third inning.
Clarion scored an additional five runs in the third inning, which went unanswered until the bottom of the fifth. Daniel Stauffer hit a home run over the left center fence, bringing in Trevor Hanna and Logan Wagner, to score an additional three runs. Despite their best efforts, DuBois lost to Clarion with a final score of 7-4.
For full and up to date schedules, visit Penn State DuBois Athletics.