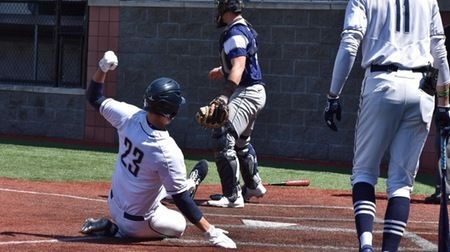 DuBOIS, Pa. — The Penn State DuBois softball team had a split weekend on the road, taking two losses last Friday against Penn State Hazleton and two wins on Saturday at Penn State Scranton.
The first game in the series against Hazleton saw Lizzy Scott locked into a pitchers' duel with Hazleton, obtaining eight strikeouts and only allowing one run with a final score of 1-0. The second game in the series was similar, with Hazleton scoring four runs and besting DuBois 4-0.
Saturday, the softball team traveled further east to Scranton, putting big numbers on the scoreboard for both games. Shyanne Lundy hit a grand slam and brought in a total of five RBIs for the first game. Abby Pentz went 5 for 6 at the plate, earning four RBIs and two doubles. Lizzy Scott closed the first game with a nine-strikeout shutout with a final score of 25-0. Work at the plate continued as the Penn State DuBois lady lions earned 13 runs in the first inning, finishing game two with a score of 22-0.
The Penn State DuBois baseball team has had a stellar week with a series sweep during Friday's home double header against Penn State Greater Allegheny and a win Wednesday at Pullman Park.
Last Friday, Taylor Boland earned his fifth win on the mound for the season, holding Greater Allegheny to no runs in the first couple of innings. Lead hitter, Dan Stauffer started things early with his eighth home run of the season during his first at bat. DuBois bested Greater Allegheny 14-4 in the first game. Trevor Hanna earned his third season win on the mound in game two of the series, with a final score of 13-7. Brett Beith and Colby Bodtorf each hit a home run and earned three RBIs for their team. Wednesday, Penn State DuBois baseball traveled to Penn State Greater Allegheny for the third and final game to sweep the series with a 19-6 win.
Home conference play for both Penn State DuBois baseball and softball continues this evening, April 22. The Penn State DuBois softball team plays at Heindl Field against Penn State Greater Allegheny at 4:30 p.m. and 6:30 p.m. with a senior recognition program in between games. The baseball team will take on Penn State Fayette in a single game tonight at 6 p.m., also with a senior recognition and the championship ring ceremony before the game.
Tomorrow, the baseball team will travel to Penn State Fayette to continue their series with a double header. On Sunday, April 24, the softball team will head to the Allegany College of Maryland for a double header.