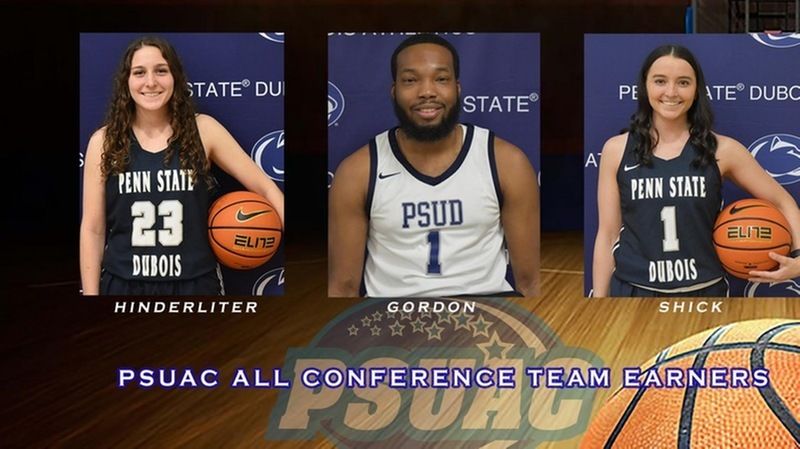 UNIVERSITY PARK, Pa. — The Penn State University Athletic Conference has announced its 2021-2022 Men's and Women's Basketball All-Conference awards, and DuBois' own Tara Hinderliter, Malik Gordon, and Lexey Shick have made the list.  
More than 65 student-athletes received recognition on the various All-Conference teams and as John Fritz Sportsmanship Award winners.
Each sport recognizes East and West Division First Teams, plus an Honorable Mention. Specialty awards include Player of the Year, Rookie of the Year and Defensive Player of the year in each division, plus a single Coach of the Year.
The women's East Division was led by number one seed Penn State Schuylkill's Alyssa Gerber, who earned Player of the Year after averaging nearly 14 points and nine rebounds per game. Her counterpart from the West, Taylor McCormick, averaged a conference-best 20.2 points per game while finishing second in the conference with 56 steals.
On the men's side, Penn State York's Deriq Brown captured the East Division Player of the Year award with nearly 18 points per game, 8.6 rebounds and 2.1 assists each night out. Just down the road at Penn State Mont Alto, Quintyn Flemister earned his second West Division Player of the Year award with a stellar campaign that saw him average nearly 15 points and six rebounds per game. 
Schuylkill's Charles Killian picked up the Women's Coach of the Year award after leading his program to an 18-1 conference record, while Mont Alto's Jack Schenzel earned the Men's Coach of the Year award for the second consecutive year after finishing with the same conference record.
All-Conference awards can be seen in their entirety at the links below, or by using the "Awards" dropdown menu on the PSUAC website.
Selections for All-Conference are based upon nominations submitted by coaches and athletic directors and voted on by one representative from every campus.