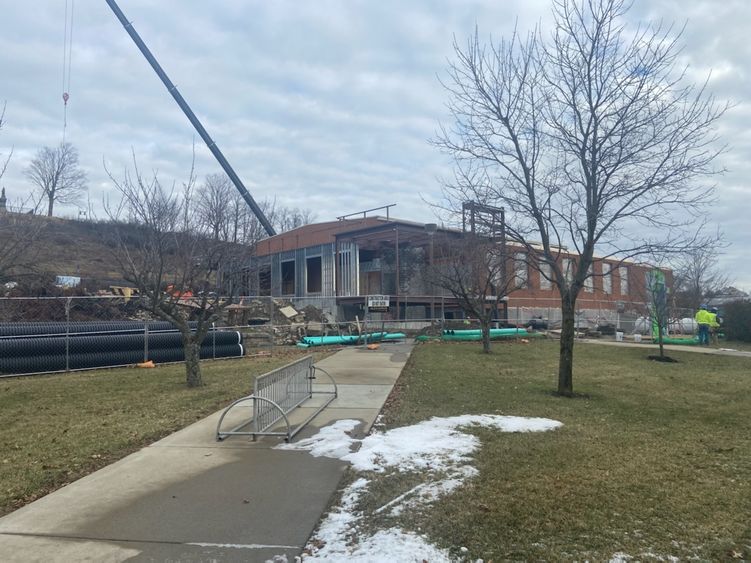 DUBOIS, Pa. – Construction continues to move forward on the new Physical Fitness, Athletics, and Wellness (PAW) Center at Penn State DuBois, with work running on schedule and expected to be completed by Fall of 2022.
The Penn State Board of Trustees approved the $17.3 million project in July. The project will transform the former Multipurpose Building into a state-of-the-art facility with a focus on athletics, health and recreation.
"Alexander Building Construction of State College is really doing a great job for us on this job," said Penn State DuBois Maintenance Supervisor Tom Hibbert. "COVID has created a lot of delays across the construction industry; and while there have been delays receiving certain materials, it's a problem the construction team is dealing with very well, and they've been able to stay on schedule." Hibbert explained that crews continue to carry out work in areas where supplies are readily available as they await the arrival of other materials.
Once completed, the building's gymnasium will feature brand new flooring, new and improved bleacher seating, new lighting and more. The fitness center will be updated to provide students and student-athletes, as well as employees, a space to work toward staying healthy. Additional practice space as well as offices for athletics staff will also be housed within the updated building. Two sets of home and away locker rooms are being constructed, and new heating and air conditioning systems will also be installed for improved efficiencies.
Penn State DuBois Athletic Director Ken Nellis said the project has been met with a great deal of enthusiasm. He also expressed gratitude for the support campus athletic teams have received from the community and other local organizations. Due to construction, the volleyball team held all home matches at other facilities this season, and both men's and women's basketball teams have played exclusively on the road.
"We are extremely pleased with the progress of the construction and look forward to getting back into the building in September," Nellis said. "With the ongoing struggles with the COVID-19 pandemic it has made it more difficult not having our own facility for practices and games. DuBois Area School District, Jeff Tech, and the YMCA have been life savers by providing space for our teams to hold practices and games.  Penn State DuBois students, the athletes, and coaches are excited about the new facilities and the energy it will bring back to campus; not to mention home games again."
Originally constructed in 1966, the building formerly housed the Wildlife Technology program in addition to athletics and fitness-related spaces. Wildlife Technology will be relocated to existing space on campus in the Smeal Building that has also been updated to best serve the needs of the program.
A long-lasting impact on the campus will be realized as a result of the generosity of donors who contributed to this project, including Charles Snapp, the Fairman Family Foundation, Christine Beretsel, Dan and Donna Kohlhepp, Janine Fennell Johnson, and Bob Johnson. Additionally, Penn State has dedicated funding through University Capital Funds, and the Student Government Association has voted to direct Student Facility fee dollars toward the project. Major Maintenance funding and campus budget dollars will also help to cover the cost.