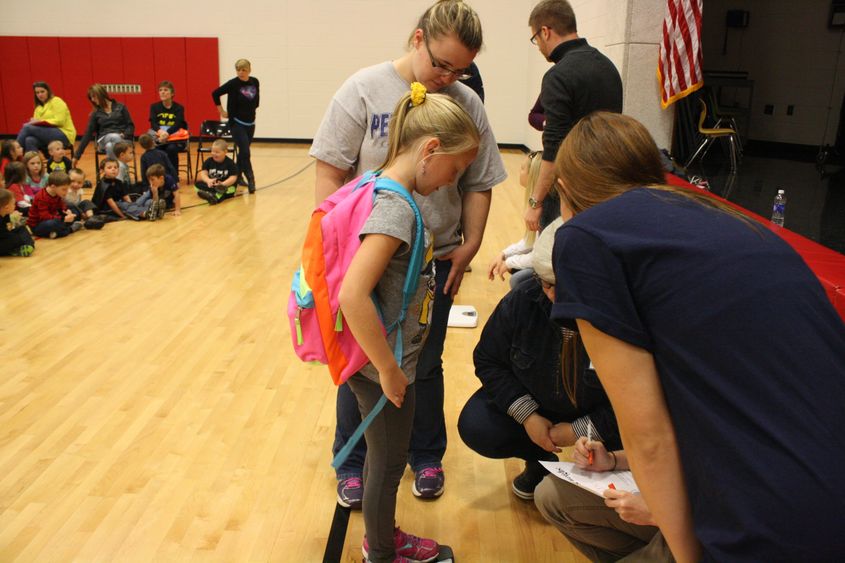 DUBOIS, Pa. — Some area elementary school students got a lesson in health and safety from students in the Penn State DuBois Occupational Therapy Assistant (OTA) Program on Thursday, Oct. 15. The Penn State students presented the Backpack Awareness Program to around 400 students at Juniata Elementary School in the DuBois Area School District.
The Backpack Awareness Program is intended to teach youngsters the safest practices when it comes to carrying backpacks, in terms of the amount of weight that should be carried, the proper ways to wear a backpack, and more.
A rule of thumb the program follows, in accordance with the American Occupational Therapy Association, is that a backpack should not exceed 10 percent of a child's body weight. One exercise in the program has students step on a scale with their backpack on, then again without it, in order to see if they are in line with this rule.
Occupational therapy experts say, somewhat surprisingly, something as simple as improperly carrying a backpack can lead to significant health issues later in life.
"This is an opportunity for our students to do some community outreach and provide a valuable service to teach young kids how to prevent back injury and other complications by wearing their backpack properly," said LuAnn Demi, senior instructor in the campus OTA program.
Penn State students also provided informational packets for the elementary students to take home and review with their parents, so the whole family can study up on backpack safety. Elementary educators were pleased to see the benefits these tips could have.
While helping youngsters to stay healthy, the Penn State DuBois OTA students also got some real-world experience in the career field they plan to enter.
"Our students learn leadership skills from setting up this entire program; they organized it from start to finish," Demi said. "Also, they will interact with people of all ages in their careers — some may even work within the school system. This gave them some great hands-on experience working with children."
"We don't always get to work with children a lot, so this is a good experience to have," said Brianna Nussbaum, a student in the Penn State DuBois OTA program. "It's good to get off campus and get practice working with a big group like this."