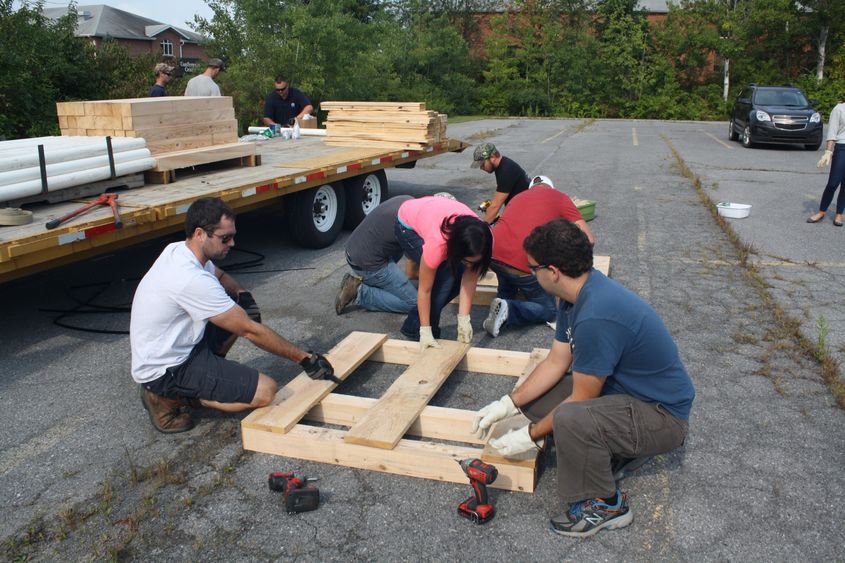 DUBOIS, Pa. -- Students in the Penn State DuBois Wildlife Technology Program have joined the efforts of the Pennsylvania Fish and Boat Commission and the Jefferson County Conservation District to provide habitat development and improvement in and around Kyle Lake, a man-made body of water located in Washington Township, Jefferson County. Students recently helped representatives build turtle basking platforms that will be placed in the lake to help sustain the local population of painted turtles.
Most of the work is centered on providing cover and habitat for wildlife and fish species in and around the lake, such as catfish spawning boxes, as well as structures for bass and pan fish to use as cover.
The turtle basking platforms will be ready for installation in the spring. The wooden structures will float on the water's surface, but they will be tethered in place to blocks dropped on the lake's bottom.
"Turtles eat, then they climb out of the water and bask in the sun," explained Pennsylvania Fish and Boat Commission Habitat Manager Mike Swartz, who is also a graduate of the Penn State DuBois Wildlife Technology Program. "They need this to thermo-regulate. [The platforms] also help the turtles avoid predators by giving them a place to bask out in the middle of the lake, instead of them being forced to go to the shore."
Swartz said Kyle Lake has long been a popular recreational area, and that a decline in some species of fish and wildlife in recent years has resulted in decreased recreational opportunities, such as fishing. Declines are attributed to the fact that it is a man-made lake, lacking some of the habitat characteristics of natural lakes. Current efforts are aimed at changing that.
"This is the first year of a five-year project including the turtle platforms, catfish boxes and more," Swartz said. "It seems like some populations have gone down, and we're trying to get that back up and keep the anglers happy."
Swartz said that the turtle platforms also double as habitat for fish, since they provide shaded areas that some species seek out during warm weather.
Deb Wilson, manager of the Jefferson County Conservation District, said, "As a resource, Kyle Lake provides a lot of opportunities for recreation in our area, with things like fishing, kayaking and boating. We are looking for ways to improve it and make it an even better resource, and we're just really excited to be working with the Fish and Boat Commission and Penn State DuBois to do that."
"It works tremendously well; if we don't have volunteers, these projects don't happen," said Swartz of the partnership.
While the Penn State DuBois wildlife technology students are helping to make these habitat improvement projects happen, they're also learning valuable, real-world lessons that round out their educational experience. They are learning from professionals like Swartz, who graduated from the same program they're enrolled in, and is now putting his education to work.
"These hands-on activities are things the students will likely have to do as wildlife professionals, so they're getting the experience now and developing skills they'll always depend on throughout their careers," said Keely Roen, senior instructor of wildlife technology. "They also get to work with professionals in the field, network with them, and connect with them."
"I think this is really cool because these things we're building will last for so long and have such an impact," said student Linsie Adams, of Punxsutawney. "I got to help produce this and make an experience better for families who go out there."
Classmate Matt Duffus, of Mount Pleasant, said, "This gives us hands-on experience, instead of just being in the classroom all the time; it's real field experience. Plus, it feels good to make a difference."
Anyone interested in learning more about the Wildlife Technology Program at Penn State DuBois is welcome to attend a Wildlife Visitation Day planned for 10 a.m. on Wednesday, Sept. 23. For more information or to register, visit http://dubois.psu.edu/visit or call 814-375-4720.