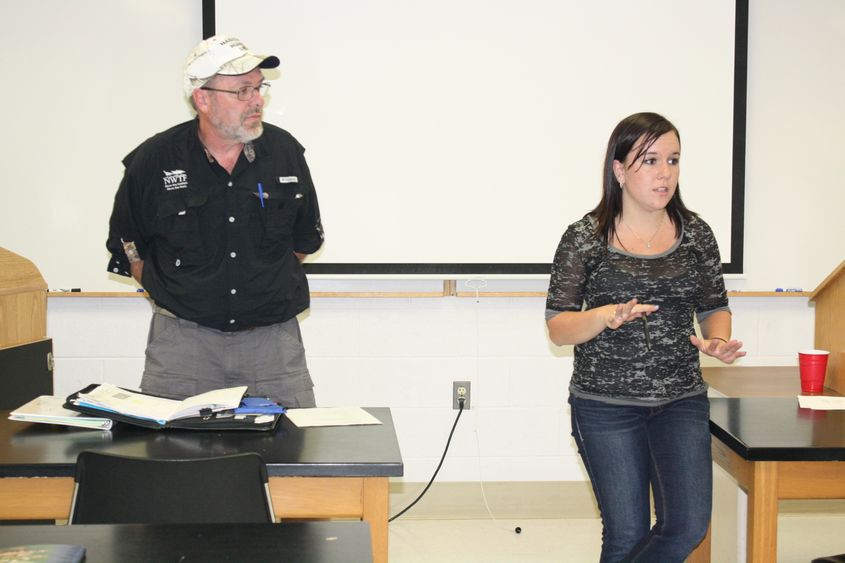 DUBOIS, Pa. -- Students at Penn State DuBois have launched a collegiate chapter of the National Wild Turkey Federation (NWTF), and they're gearing up to hold their first major fundraising event in September.
Dubbed the Penn State DuBois Strutters, the collegiate chapter has planned a fundraising day beginning at 2:30 p.m. on Sunday, Sept. 13 at Bilger's Rocks in Grampian. There will be games including horseshoes, bag toss, can jam and archery, as well as raffles for prizes such as trail cameras and more. A dinner will begin at 5 p.m. The event is open to the public. To register, contact Courtney Braunns, chapter president, at 814-952-0318 or [email protected]. Proceeds will benefit local scholarship funds and NWTF conservation efforts.
The Strutters are one of only two collegiate chapters of the NWTF in Pennsylvania, with the other based at Penn State's University Park campus. Open to all Penn State DuBois students, the chapter serves as a student club on campus, but it also affiliates its members with the NWTF, giving them access to the support of the organization and opportunities to collaborate on conservation-oriented projects.
"The major significance of a college chapter is to help students understand the mission and reach of the National Wild Turkey Federation," said Walter Bingaman, NWTF Pennsylvania regional director, who recently attended an organizational meeting of the Strutters chapter. "A collegiate chapter is so important because we hope that after you graduate, you find your local chapter and continue your involvement."
Braunns serves not only as chapter president, but also as its founder, setting its establishment in motion last year.
"My motivation for starting this collegiate chapter came from my love and passion of getting others involved in the outdoors," she said. "Throughout my childhood I had excellent mentors and had some pretty amazing opportunities, and I want to share that with others and give them the same experience I had growing up.
"I am hoping that through having a collegiate chapter we will be able to reach out to students and teach them about the outdoors and the importance of conservation, so that maybe one day they can pass that on to someone else. That's really what it is all about, and it is so important in today's world where kids are growing up sitting around playing video games instead of spending time outside. I hope our collegiate chapter can make an impact on the lives of many people. Even if just one person is impacted by each event we do, that's one more person who will share their knowledge and passion with generations to come."
Founded in 1973, the NWTF is a non-profit organization dedicated to the conservation of the wild turkey, and all wildlife, and the preservation of America' hunting heritage. The organization supports scientific wildlife management, provides educational programs, provides funding for habitat conservation efforts, and more. To date, the NWTF has dedicated more than $372 million to upholding sporting traditions and conserving more than 17 million acres of wildlife habitat.