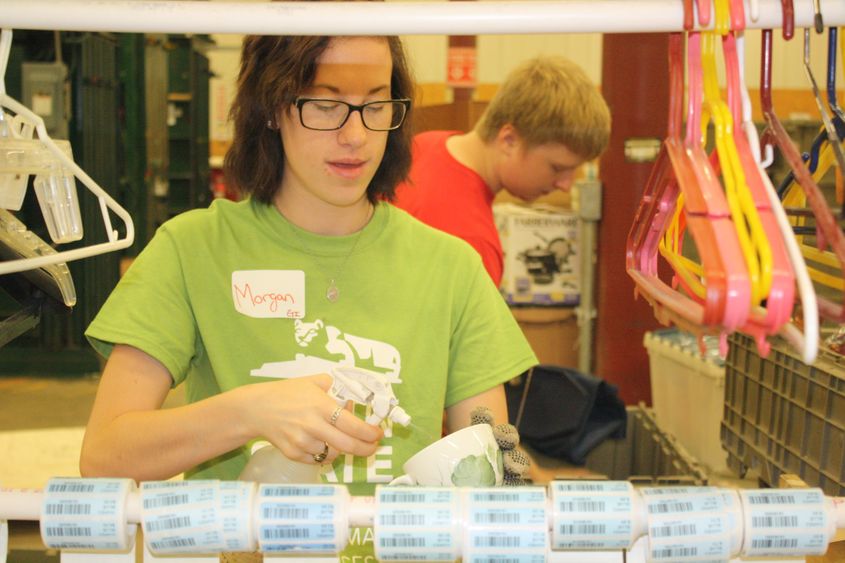 DUBOIS, Pa. -- More than 140 freshman, plus faculty and staff leaders, participated in the annual Penn State DuBois Outreach Day on Aug. 21. Each year, as part of New Student Orientation, new students volunteer at various charitable and community organizations throughout the area, giving students a look at the importance of service, while lending a hand to local charities. This year, students served with a total of 18 organizations, including The American Red Cross, Bilger's Rocks, Boy Scouts of America, Brockway Depot, Central PA Community Action, Children's Aid Society, Downtown DuBois Revitalization, DuBois Area Historical Society, DuBois Chamber of Commerce, DuBois Continuum of Care, DuBois Senior and Community Center, DuBois Free Medical Clinic, Goodwill Industries, Paint and Play School, Rumbarger Cemetery, Salvation Army, Special Olympics and the Tri-County Church.
Each group was led by a campus faculty or staff member, as well as a student orientation leader, who then took the students to their work site for the day. In all, the groups visited more than a dozen charitable and community-centered organizations. They performed landscaping, cleaning, litter pick up, and other duties in order to give back to the communities in DuBois, Clearfield, Brockway and beyond.
Freshman Morgan Young of Clearfield spent Outreach Day at Goodwill Industries of North Central Pennsylvania in Falls Creek, where she sorted donated items, folded and hung clothing, and labeled items for sale.
"I like it because it's an opportunity to do something different and help make a difference," Young said. "I hope hearing about what we did today makes others want to do the same."
Fellow student Anthony Caruso of South Williamsport was even more inspired to help others after Outreach Day.
"It feels nice to help people, and I think I might want to go back and help again," he said.
Caruso also said that Outreach Day is especially beneficial for students from outside the area who are attending Penn State DuBois.
"It's a good way to help everyone in the community, especially when it's one I've never been to before," said Caruso. "Meeting people here by helping them is a good way to start, and it gives a lot of insight as to what people around here are like and what the area is like."
In addition to leaning more about his new community, Caruso also learned quite a bit about Goodwill Industries of North Central Pennsylvania, as students are urged to learn more about the organizations they are serving.
Students volunteering at Goodwill, for instance, learned that the organization serves 13 counties in Pennsylvania. At the Falls Creek plant, they process 4,300 donated items each week, which range from clothing, to toys, to furniture, appliances and other household items. Items are then shipped to Goodwill stores in the area. Goodwill of North Central Pennsylvania employs a total of 550 people, a large number of them with disabilities, providing them with opportunities to make a living in a welcoming environment. But, like any workplace, a little extra help is always appreciated.
"The Penn State students definitely helped pick up the flow," said Kayla Gordon, Goodwill assistant plant supervisor. "Summer is our busiest time with our stores getting a big rush for back-to-school shopping, so having help preparing for back-to-school is really helpful."
Gordon said the employees at the plant enjoy the help, as well as the interaction they have with students.
"The people that work here with disabilities are so excited to have others come and teach them their jobs and the things they do each day," she said.
Penn State DuBois Assistant Director of Student Affairs Marly Doty said she was happy to hear how students and organizational representatives felt about Community Outreach Day. She said instilling in students a passion for service early on can add meaning and value to their education, and even to their future careers.
"It's important that students engage in community service right off the bat," said Doty. "It teaches them about social responsibility and places where they can get involved. That blossoms into future projects, community service trips, and even jobs. They're making connections, meeting people, and giving back. It increases their odds for success and builds a stronger community all at the same time."
Doty added that some new students have already expressed interest in continuing their service through campus after participating in Outreach Day, by stepping up to lead next year's freshmen.
"The new students are excited and determined to be orientation leaders next year," she said. "This builds a strong foundation for our involvement on campus this upcoming year."