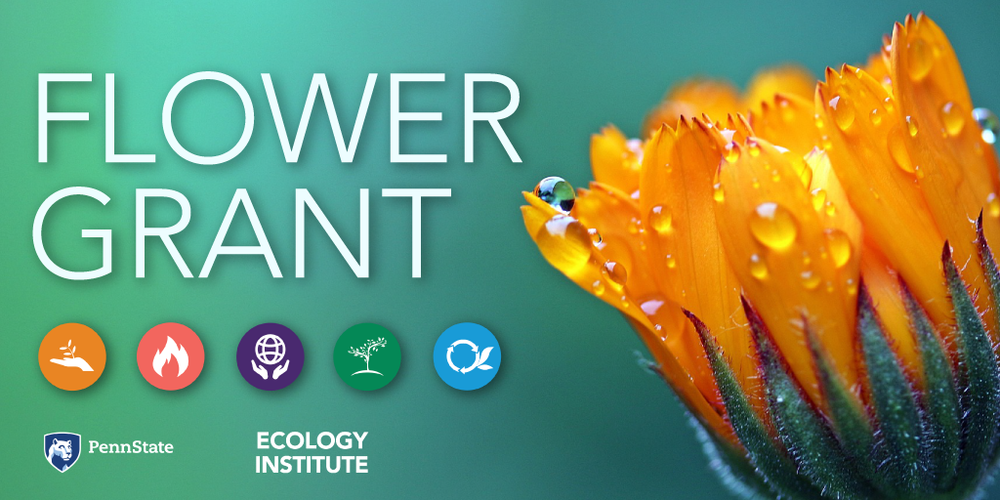 UNIVERSITY PARK, Pa. -- The Ecology Institute has awarded 11 proposals from across the University as part of its Flower Grant program, including five projects submitted by faculty at Commonwealth Campuses.
The funds provided by the Flower Grant aim to support ecology research focused across the institute's five core themes: resilience and adaptation; provision of ecosystem goods and services; ecology at the interface; rapid evolutionary change; and ecological foundations.
"Ecologists at Penn State are studying everything from corals to invasive earthworms to flowering plants to illegal wildlife trade, and beyond. They are taking advantage of our laboratory and field facilities and promoting interdisciplinary collaboration," said Erica Smithwick, director of the Ecology Institute and associate director of the Institutes of Energy and the Environment (IEE). "This year we were happy to award almost half of our funding to Penn State campuses across the commonwealth. The Flower Grant is an opportunity for the Ecology Institute to strengthen interdisciplinary research on all our campuses, providing a small boost to ongoing and emergent projects across all our thematic areas of emphasis."
One of this year's recipients is Autumn Sabo, assistant professor of biology at Penn State Beaver and first-time recipient of the Ecology Institute's Flower Grant.
"This grant will help jumpstart new collaborative relationships and research avenues for me, supporting field data collection at 10 sites scattered around the state," Sabo said.
Sabo and her fellow researchers, Sarah Nilson, Penn State Beaver, and Eric Burkhart, Penn State University Park, hope to understand how deer and earthworms impact the ramp wildflower.
"I am excited to learn how these ecosystem engineers affect ramp populations and their genetic diversity and am hopeful that our project will inform conservation of this edible wildflower," Sabo said.
The 2020 grant recipients are:
"Investigating unknown Late Cretaceous fossil woods from Colorado (U.S.A.): A window into the ecology and evolution of plant communities" Sarah Allen, Penn State Altoona
"Disrupting illegal wildlife trade through strategic interventions" Julian Avery, College of Agricultural Sciences
"Working group meeting of the Coral Restoration Consortium – Connecting phenotype to genotype of stress resistant coral populations" Iliana Baums, Eberly College of Science
"Unsolved Mysterysnails" Lynne Beaty, Penn State Erie, The Behrend College
"Mushroom Foraging and Foragers in Pennsylvania During the COVID-19 Pandemic" Eric Burkhart, College of Agricultural Sciences
"Probing root-microbiome interactions in legumes to find gradients of microbial activity using BONCAT-flow cytometry" Estelle Couradeau, College of Agricultural Sciences
"Detecting and mitigating the extinction vortex in endangered flowering plants of Pennsylvania" Claude dePamphilis, Eberly College of Science
"Expansion of Tree Leaf Analysis by Laboratory for Isotopes and Metals in the Environment (LIME) for Urban Forest Sustainability in the Good Woods, Philadelphia, PA" Robert Loeb, Penn State DuBois
"Are deer and invasive earthworms influencing genetic diversity in ramp populations?" Autumn Sabo, Penn State Beaver
"Development of a nondestructive bioassay for quantifying contaminant metabolism: insight into the toxicological consequences of rapid environmental change?" Adam Simpson, Penn State Erie, The Behrend College
"Freshwater Mussel Soft Tissue Incorporates Strontium and Radium Isotopic Signatures of O&G Produced Water" Nathaniel Warner, College of Engineering
The Ecology Institute aims to support the growth of existing teams and centers in convergent ecological research along its five core themes, and it is supported by the Huck Institutes of the Life Sciences and IEE.