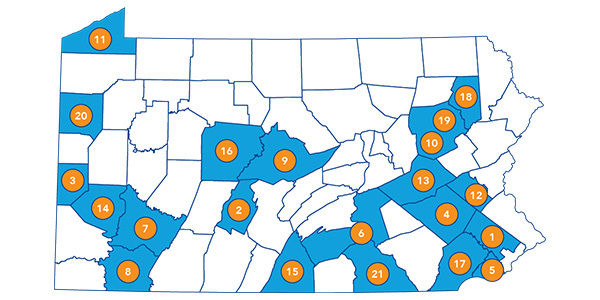 UNIVERSITY PARK, Pa. — Across Pennsylvania, the Invent Penn State innovation hub network has pivoted to deliver needed programming and services online amid facility closures due to the COVID-19 pandemic. Adapting and moving rapidly, directors are using technology to reach entrepreneurs and startups in their communities by providing online mentoring, webinars, virtual speaker series, as well as a Virtual Idea TestLab.
Click here for a downloadable chart of available online innovation hub services and programs.
In Central Pennsylvania, the Happy Valley LaunchBox powered by PNC Bank is taking their June Idea TestLab accelerator program online. Now dubbed the Virtual Idea TestLab, the four-week program kicks-off June 2 and is designed to help teams evaluate the viability of their business ideas by coaching them through a proven method of customer discovery and problem analysis. Applications are open through May 15. 
Harrisburg LaunchBox director Annie Hughes adapted quickly to the remote environment. and is supporting entrepreneurs and startups in the Capitol Region with a series of entrepreneurial webinars. "The challenging economic climate for entrepreneurs makes access to LaunchBox programming more important than ever," says Hughes. "Just like our startups, we must adapt to continue providing value to our clients." The multi-part webinar series focuses on company creation, stimulating creativity to drive "Big Ideas," and a workshop on Design Thinking. Hughes' next webinar, Licensing & Company Creation, in collaboration with Berks LaunchBox, is scheduled for 6:30 p.m. on Thursday, April 30.
The North Central PA LaunchBox (NCPA) is set up to bring regional resources together for all businesses in the North Central region of Pennsylvania and quickly jumped into action. Considering how to best serve the region, the NCPA LaunchBox has assisted over 2,000 business via partnerships, webinars, and regional collaboration. Brad Lashinsky, NCPA LaunchBox director, said, "Looking ahead to the end of quarantine and helping businesses in the region return to normal operations is our focus. We're working with our vast array of partners to send out the COVID-19 Business Impact Survey. This information will help the entire North Central PA Region by letting our regional, county, and local officials and partners understand what roadblocks businesses are facing and be prepared to help."
In Eastern Pennsylvania, the LionLaunch innovation hub at Penn State Schuykill is now producing the LionLaunch Live: Virtual Professional Development Series. The six-part series highlights legal issues to consider during this time, how to remain motivated while social-distancing, growing professional networks and marketing tactics. Part three, Create Vision Boards That Inspire Success, is scheduled for 12:20 p.m. on Thursday, April 30.   
"Our Launchboxes and other innovation hubs have shown admiral resolve to continue programming in the face of unprecedented circumstances and facility closures," says James Delattre, associate vice president for the Office of Entrepreneurship and Commercialization, which administers the Invent Penn State initiative. "The work directors and staff are doing for their communities is perhaps more important than ever, validated by the large numbers of entrepreneurs and business owners viewing webinars, seeking legal advice, and reaching out about starting or sustaining a business."