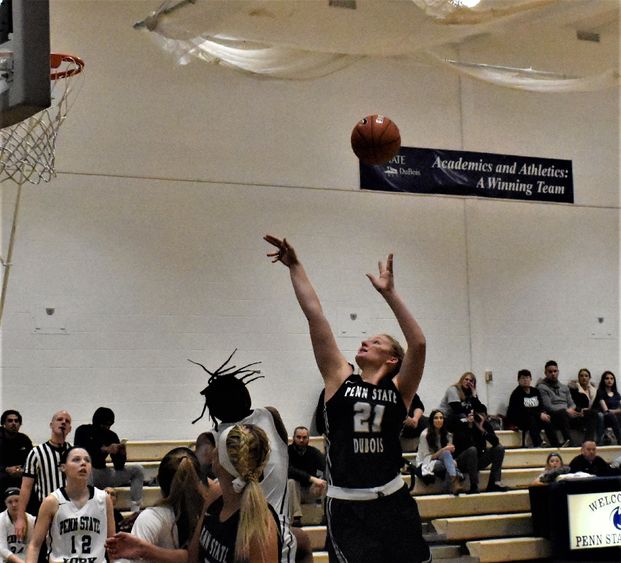 The third ranked Penn State DuBois Lady Lions basketball team defeated No. 2 ranked Penn State Fayette 68-62 in the first round of the Penn State University Athletic Conference (PSUAC) playoffs on Feb. 25, advancing DuBois to the second round.
DuBois got out to an outstanding lead in the first quarter as they went up 26-14. Fayette came back with a punch of their own in the second quarter to pull back within four points before heading to the locker room.
The third quarter stayed even, but DuBois gained another edge by going up by five headed into the fourth quarter. Malliah Schreck (Emlenton, Pennsylvania) then took over and did what she has done all year. In the fourth quarter alone, Schreck secured nine rebounds and dropped in 11 points. Fayette couldn't withstand this surge by Schreck and her Lady Lions, and DuBois would go on to win the first round of the playoffs.
DuBois held Fayette to only 27% shooting from the field, and out rebounded them by 10. Schreck, who was just announced as the USCAA National Player of the Week would end the game with 26 points and 24 rebounds. Cierra O'Shell (Glendale, Pennsylvania) and Lexey Schick (Rimersburg, Pennsylvania) would help the cause by dropping in 14 and 13 points, respectively. Schick would also dish out five assists on the night.
DuBois will now travel to Philadelphia for the second round of the PSUAC playoffs to face the eastern divisions No. 1 ranked Penn State Brandywine on Friday, Feb. 28.