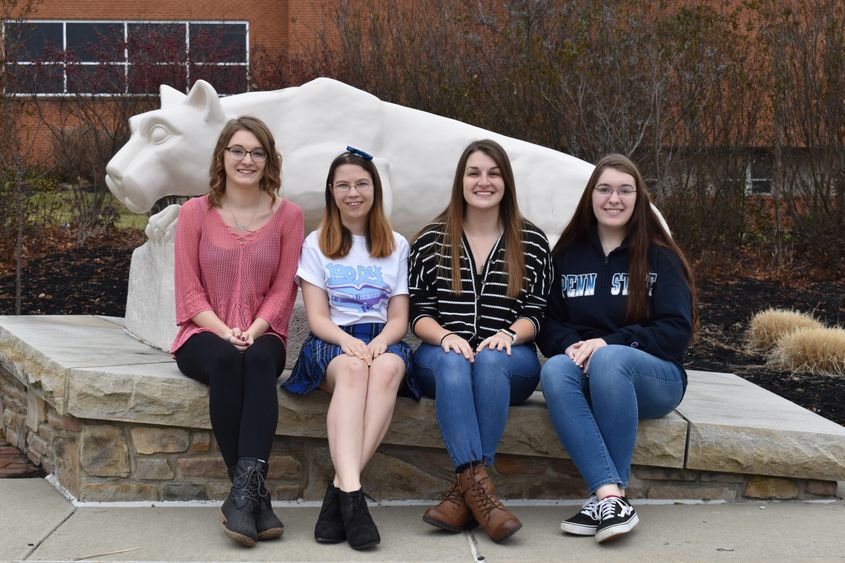 Penn State DuBois will send four students to THON this year to represent the campus as the official THON dancers at the Penn State Dance Marathon scheduled for Feb. 21, through the 23, at the Bryce Jordan Center at University Park. Planning to stay on their feet for 46 consecutive hours are Taylor Butler, of Curwensville; Sarah Voris, of Punxsutawney; Lydia Holt, of Brockway; and Heather Witherow, of Reynoldsville.
The largest student-run philanthropy in the world, engaging more than 15,000 students across Pennsylvania, THON has raised $157 million for the Four Diamonds Fund since its inception in 1977. The event's sole beneficiary, and a leader in the fight against pediatric cancer, the Four Diamonds Fund fills in the funding gaps that insurance leaves for the patients it serves, enabling families to focus on caring for their child. Because of large donors like THON, Penn State Hershey Hospital recruits world-class talent to continue innovative research, and to maintain and expand the state-of-the-art Children's Hospital.
The dancers recently shared the things that inspired them to join the fight against childhood cancer by becoming involved with THON and to take on the responsibility of participating in the 46-hour dance marathon. Witherow said, "I've been involved over the past year with THON and I have seen the impact it has, and that really inspired me to want to be a dancer. I've also lost a lot of people in my life to cancer, so being involved in a cause that fights cancer is also important to me.
Holt, too, found inspiration in her personal experiences. She said, "I work with kids at a daycare, so I love kids. I've also had multiple family members fight cancer. So, this is contributing to both fighting cancer and helping kids – both are important to me. It's a real honor and a perfect way to help."
Voris and Butler both have a strong desire to join the fight to help children battling this disease, as well. Voris said, "I'm very interested in helping the kids and families impacted. I have a niece and nephew, five and one, and I can't imagine what it's like for kids and families to go through what these families go through. I want to help these families so they can go on to just live their lives."
Butler shared, "I'm passionate about helping people any way I can, and I love children. It's an honor to have this opportunity. It also makes me happy knowing that we'll get to meet some of the kids we impact at THON."
Penn State DuBois Benefiting THON raised $30,359 for the cause last season. Student volunteers hold concerts, BINGO nights, and other events to raise funds that contribute to the overall University-wide total.
The largest THON fundraising event of the year, the annual Sendoff Dinner and Hair Auction is scheduled for 5:30 p.m. on Thursday, Feb. 13, in the Student Union at Penn State DuBois.
Open to the public, the cost is $5 for Penn State DuBois students, $15 for a single ticket, and $25 for two tickets. To make a reservation visit https://dubois.psu.edu/form/psu-dubois-thon
To support Penn State DuBois for THON visit https://donate.thon.org/?fuseaction=donorDrive.event&eventID=1930