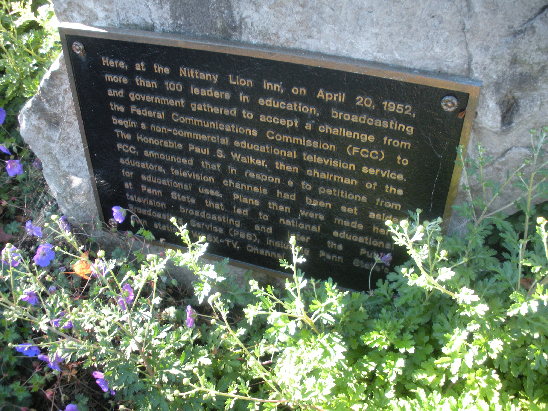 UNIVERSITY PARK, Pa. — Seventy years ago this week, educational television was born at a conference at Penn State's Nittany Lion Inn. 
WPSU is celebrating the anniversary on Wednesday, April 20, by handing out free dishes of WPSU Coffee Break ice cream from Berkey Creamery and commemorative laptop stickers at the University Park, DuBois and Altoona campuses.
The celebrations recognize Penn State as the place that educational television was planned on a national scale. The four-day Educational Television Program Institute opened at the Nittany Lion Inn on April 20, 1952, a week after the Federal Communications Commission released 242 channels for the development of educational content. It was during this conference that educational leaders, television technical experts, and others made decisions that influenced the programming and funding model of today's public media. 
Co-chaired by Penn State President Milton S. Eisenhower, the planning and impact of the conference has carried forward into today's network of more than 330 PBS stations across the United States.  
Stop by these Penn State locations to enjoy free ice cream while supplies last, and pick up a 70th anniversary laptop sticker: 
DuBois Campus 
11:30 a.m. to 1 p.m. 
Hiller Building lawn 

University Park 
noon to 3 p.m. 
Hub Lawn near patio 

Altoona Campus 
3 to 4 p.m. 
Laurel Pavilion 
Read more about the history of public television and WPSU.