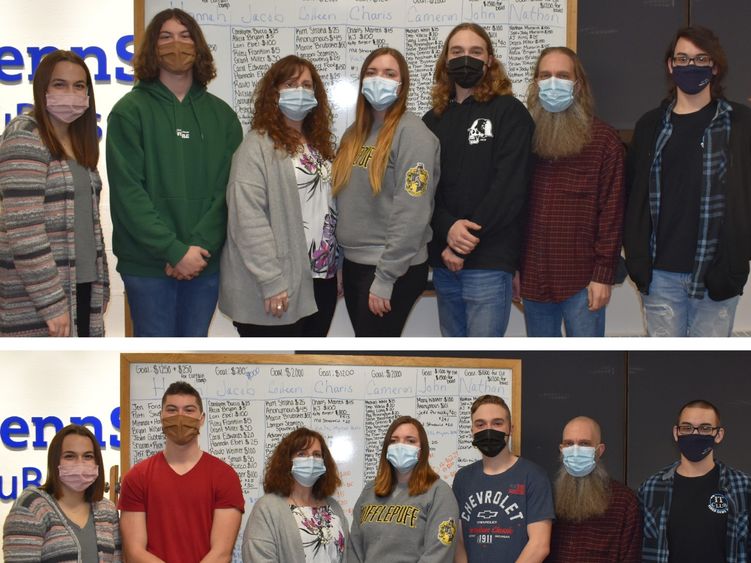 DuBOIS, Pa. — Members of the Penn State DuBois community gathered in support of THON on the evening of Feb. 9, at the Dancer Sendoff and Hair Auction held in the Hiller Student Union. The event raised $12,455 for the fight against pediatric cancer, breaking the record for money raised during this single event. This also brings the current campus total of dollars raised to $25,355 for the year, surpassing the Penn State DuBois for THON goal of $25,000 for the entire season.
"This is the absolute most that we have ever raised at this event," announced Director of Student Affairs Rebecca Pennington to the crowd. She said coming back to a live event following COVID closures made organizers unsure of how successful fundraising efforts could be. "I am so very honored that all of you came out like you did and helped these students who have worked so hard to meet this goal."
Hair Auction volunteers accepted bids, agreeing to cut their hair if their reserve was met, with all proceeds benefiting THON. Watch full video coverage of the event here. With opening remarks by both Pennington, and past Penn State DuBois THON dancer and co-chair Lydia Holt here.
Holt said, "The average cost of a stay in the hospital for a child with cancer, per day, is around $40,000, which is around five times the cost of any other pediatric condition. To date, however, THON has helped over 4,000 families so that no family has to see a medical bill like this."
Those who participated in the hair auction this year are THON dancer Hannah Allen, student Jacob Ebel, Campus Counselor Colleen Lanzoni, Cameron Pennington, son of director of Student Affairs Rebecca Pennington, Charis Martell, a Penn State University Park student and former DuBois THON co-chair, Professor of Mathematics John Tolle, and student Nathan Murarik, SGA vice president. All told, the hair auction volunteers surpassed the goal for the evening, with Tolle and Murarik going bald for the cause. The evening also featured a BINGO style game that attendees could enter by donating, earning them the chance to win door prizes.
This event also serves as a sendoff for the official Penn State DuBois THON Dancers, Hannah Allen, Haley Rummel, Elise DuFour, and Alena Keen. They will attempt to stay on their feet for the entire 46-hour Penn State Dance Marathon planned for Feb. 18-20 at the Bryce Jordan Center at University Park. Donations can still be made here to support the DuBois dancers. 
The largest student-run philanthropy in the world, engaging more than 16,500 students across Pennsylvania, THON has raised more than $190 million for Four Diamonds since its inception in 1973. Last year, efforts to support THON at Penn State DuBois contributed over $23,000 to THON's 2021 total of more than $10 million.
THON's sole beneficiary, and a leader in the fight against pediatric cancer, Four Diamonds fills in the funding gaps that insurance leaves for the patients it serves, enabling families to focus on caring for their child. Because of large donors like THON, Penn State Children's Hospital recruits world-class talent to continue innovative research, and to maintain and expand the state-of-the-art hospital.
Watch a livestream of this year's THON beginning at 6 p.m. on Feb. 18, at THON.org/livestream.