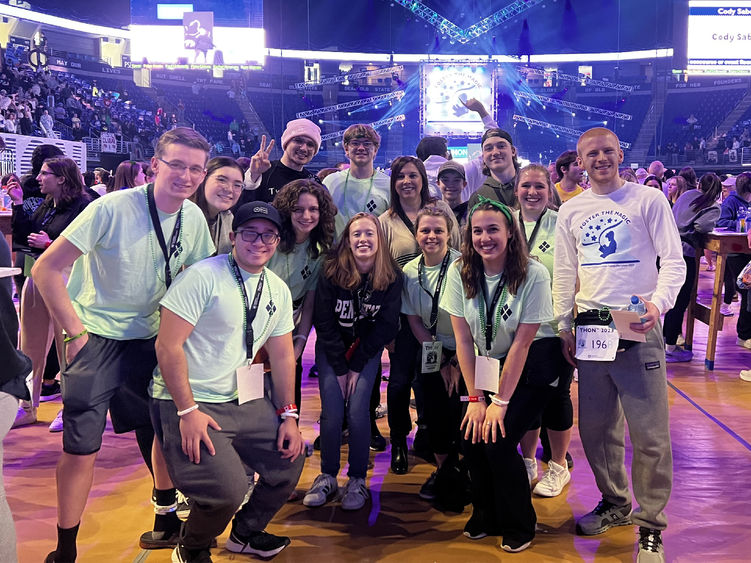 DUBOIS, Pa. — After being on their feet for 46 hours straight, the four dancers that represented Penn State DuBois at THON — Alicia Bryan, Eamon Jamieson, Jalen Kosko and Gaven Wolfgang — can rest a bit easier knowing that their efforts, along with the efforts of the THON committee and the campus community, raised more than $34,000 "For the Kids."
Each year THON sees hundreds of students representing each of Penn State's campuses stay on their feet without sleep for 46 hours, all to champion their cause. This year, more than 700 students were on their feet at the Bryce Jordan Center at University Park, from 6 p.m. on Feb. 17 to 4 p.m. on Feb. 19.
In total, Penn State DuBois collected $34,025.91 in donations this year supporting the fight against pediatric cancer. This amount surpassed the campus fundraising goal by nearly $10,000.
Throughout the year, students raise money with a variety of events. This includes bingo events, food fundraisers, a golf tournament and the largest event, the annual hair auction. The hair auction sees individuals from the Penn State DuBois community agree to trim off —  or in some cases buzz off — their hair, depending on donations that are received from auction participants. This year, the hair auction had another record-setting night, raising more than $14,000 when all the donations were totaled.
The largest student-run philanthropy in the world, engaging more than 16,500 students across Pennsylvania, THON has raised more than $200 million for Four Diamonds since its inception in 1973.
The event's sole beneficiary, and a leader in the fight against pediatric cancer, Four Diamonds fills in the funding gaps that insurance leaves for the patients it serves, enabling families to focus on caring for their child. Because of large donors like THON, Penn State Health Children's Hospital recruits world-class talent to continue innovative research, and to maintain and expand the state-of-the-art Children's Hospital.
The THON committee at Penn State DuBois would like to encourage everyone to watch for their fundraising efforts for the next THON season to get started. The first event is currently scheduled to be a golf tournament in August.
You can learn more about the dancers that represented Penn State DuBois at this year's THON weekend in a previous story here.