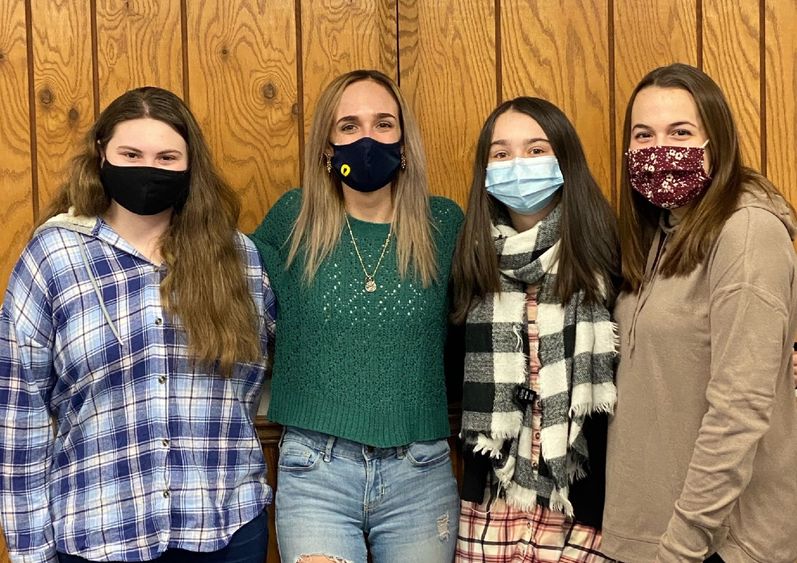 DuBOIS, Pa. — THON, the Penn State Dance Marathon supporting the fight against pediatric cancer, returns to an in-person event this year, and four Penn State DuBois students are ready to represent the campus as the official DuBois dancers.  Hannah Allen, Haley Rummel, Elise DuFour, and Alena Keen will attempt to stay on their feet for the entire 46-hour event planned for Feb. 18-20 at the Bryce Jordan Center at University Park. 
All Penn State students and staff wishing to access the Bryce Jordan Center event level (floor), or mezzanine will be required to provide proof of vaccination. In addition, all families, spectators and Penn State students and staff will be required to be masked at all times, regardless of vaccination status, in accordance with University guidelines. Organizers are prepared to pivot to an online-only format should conditions require a change. More information on health and safety protocols can be found on thon.org.
The largest student-run philanthropy in the world, engaging more than 16,500 students across Pennsylvania, THON has raised more than $190 million for Four Diamonds since its inception in 1973. Last year, efforts to support THON at Penn State DuBois contributed nearly $20,000 to that total.
The event's sole beneficiary, and a leader in the fight against pediatric cancer, Four Diamonds fills in the funding gaps that insurance leaves for the patients it serves, enabling families to focus on caring for their child. Because of large donors like THON, Penn State Children's Hospital recruits world-class talent to continue innovative research, and to maintain and expand the state-of-the-art hospital.
This year's Penn State DuBois dancers are passionate about the cause, each inspired to step up by deeply personal experiences. "I joined THON because I want to make a difference in children's lives," said Allen, a first-year student from DuBois majoring in human development and family studies (HDFS). "My grandma also passed away from breast cancer, so the cause means a lot to me. Being awake for 46 hours is strenuous but nothing in comparison to having cancer."
Rummel, a senior in HDFS from Brockway, also is the campus THON chair. She said, "I went to THON weekend in 2020 and I went on the floor, and I knew at that moment I had to join. My expectation is high for all the energy and excitement being on the floor and coming back into the Bryce Jordan Center this year to dance and stand together in person. Last year I was a dancer, and it was virtual, so I'm just excited to feel the passion in the BJC. It has been an honor being the THON 2022 chair for DuBois and to be chosen to go on the floor and to represent Penn State DuBois as we fight for a cure."
DuFour, of Clearfield, is a sophomore in pre-medicine with her own personal motivation to join the cause and aid in the fight for children battling cancer. She explained, "I joined THON because my grandmother died from three different types of cancers when I was 6 months old, and I want to make sure that no parent has to live with the empty feeling I have lived with. Being a dancer for me means that I am fighting for a cure for the kids who can't be there, the kids who will be here, and representing the DuBois campus and community. These kids are fighting their battle every day, and I fight to ensure that they overcome their battle. My expectation for THON weekend is an absolutely unreal experience in terms of energy, atmosphere and emotions. I cannot wait to strengthen my bond with my fellow dancers, the other people fighting for this amazing cause, and the families we are fighting for."
A DuBois resident and senior in the Applied Materials Engineering program, Keen shared her own inspiration for becoming a part of THON. "I joined THON because my grandmother had cancer and passed away. That was devastating, so I wanted to help raise money to help the children," she said. "Being a dancer means that I have the opportunity to do something not many people can say that they have done. This is such an honor to be chosen to dance and represent Penn State DuBois and help raise money for the kids. My expectation going into THON weekend includes a lot of energy, lots of activities to do, and plenty of food and drinks to keep me going."
The dancers will be honored at an official THON sendoff event featuring dinner and the THON Hair Auction at 5:30 p.m. on Feb. 9 in the Hiller Student Union. This event is held each year to give the campus THON dancers a fitting sendoff as they depart for the Bryce Jordan Center, and to make one more push to raise funds supporting the dancer's efforts. Hair Auction volunteers accept bids for their locks and get their hair cut if their reserve is met. This event is open to the public, and all are welcome to register here. Donations also can be made here. For more information, visit the Penn State DuBois THON page online.
This year's Hair Auction volunteers are THON dancer Hannah Allen, who has set her goal at $250 for up to five inches, but will also get curtain bangs for another $250, totaling out at $1,500; student Jacob Ebel, a current Penn State DuBois student who has set his goal at $100 per inch, up to seven inches, maxing out at $700; Colleen Lanzoni, campus counselor, who has a goal of $400 per inch up to five inches, making her total goal $2,000; Cameron Pennington, son of director of Student Affairs Rebecca Pennington, who has a goal of $200 per inch up to 10 inches, meaning his goal could hit $2,000; Charis Martell, a Penn State student and former DuBois THON co-chair who is asking for $150 per inch up to seven inches for a total of $1,050; John Tolle, professor of mathematics, who will cut his hair short for $1,000 or go bald for $1,500; and student Nathan Murarik, SGA vice president, who has decided on $200 per inch, up to five inches, but would go bald for an additional $250, totaling out at $1,250.