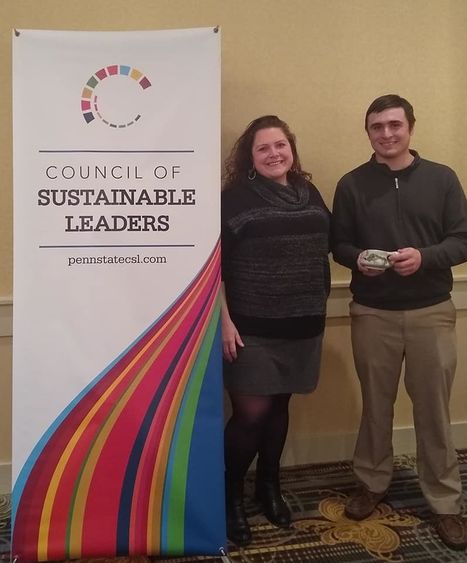 DUBOIS, Pa. — Penn State DuBois Wildlife Technology student Eli DePaulis recently received the John Roe Student Sustainability Award from the Council of Sustainable Leaders at the Sustainability Institute at University Park. He earned the award for his work to eliminate an invasive species of shrub honeysuckle from wetlands near the Penn State DuBois campus.
DePaulis developed and drafted the plan to eradicate the honeysuckle from the tract because it was a serious threat to native plant species that could have been overcome by the quickly spreading shrub. This could have resulted in a loss of food and habitat for native animal and bird species.
The area where this work was completed is frequently used by faculty and students in the Penn State DuBois Wildlife Technology program for bird banding studies and other lab exercises.
"Eli is really a leader on this campus. He helps motivate students to do big things — whether it be removing invasive species and teaching them vegetation sampling, to getting them to meet with the chancellor about starting a tree nursery. I am incredibly proud of Eli's accomplishments, but am also indebted to him for the contributions he has already made to our program and campus," said Assistant Teaching Professor of Wildlife Technology Keely Roen. "He developed an eradication and research plan, and secured funding and assistance. He spent well over 100 summer and fall hours developing a protocol and advertising for volunteers — training them on vegetation and snake surveys and teaching them how to safely and manually remove the invasive plant species."
The John Roe Student Sustainability Awards recognize exemplary performance by individuals who consistently excel at cultivating opportunities to advance the U.N. Sustainable Development Goals while demonstrating personal integrity, an unwavering commitment to their values/morals, and a commitment to the mission/values of Penn State. The awards are named in honor of the late Penn State mathematics professor John Roe, who was passionate about sustainability and the outdoors and incorporated these values into his teaching. His wife, Liane Roe, established the Dr. John Roe Fund for a Just and Sustainable Future in the fall of 2019.