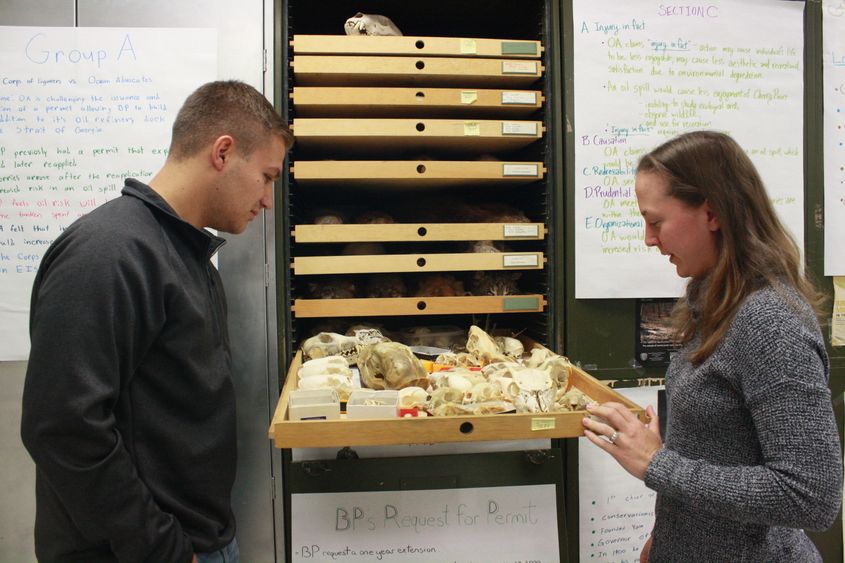 DUBOIS, Pa. —Penn State DuBois wildlife technology student Sean Lauer is this year's recipient of the Pennsylvania Chapter of the Wildlife Society's Frank Felbaum Scholarship. The second-year student from York, Pennsylvania, is the only recipient of the Felbaum Award for 2018, as the highly competitive award is given to only one individual each year. Lauer received the award at the Wildlife Society's recent conference.
The Frank Felbaum Scholarship was established thanks to the generosity of Frank Felbaum, longtime director of Pennsylvania's Wild Resource Conservation Program and a tireless conservationist. The scholarship is a one-time $500 award intended to assist outstanding students who are pursuing a career in the wildlife field.
"It's great to have our student recognized by the state chapter of the Wildlife Society," said Emily Thomas, one of Lauer's instructors in the Wildlife Technology program. "All students are eligible in any wildlife-related program across the entire state. And not only is he one of our students, but he's a sophomore who was competing with seniors for this award. They take into consideration experience, internships and involvement in student chapters. They're looking for someone really well-rounded who is solid academically, but also does a lot outside of the classroom. That's Sean. We're looking forward to seeing a lot of great things out of him in the future."
Lauer's experience includes a summer spent working for the Pennsylvania Game Commission in its fawn program. In the program, whitetail deer fawns are fitted with tags and radio colors for the collection of data on things like animal movements, behavior and mortality rates.
He plans to earn his associate's degree in wildlife technology, then go on to complete the four-year wildlife and fisheries science degree, with aspirations to work as a wildlife biologist.
Lauer said of his recognition, "It's definitely an honor to be awarded this. It makes it feel like all the hard work is paying off."
Lauer said he continues to make connections that will help to establish his career — a practice he would tell others in this field to do as well.
"Everyone should get lots of experience," he said. "Volunteer a lot. Go to conferences like the one I was at when I got this award. Network with people."
Wildlife technology students go on to work in fields related to conservation of wildlife species and habitat, such as wildlife biology, and even in law enforcement with agencies like the Pennsylvania Game Commission.