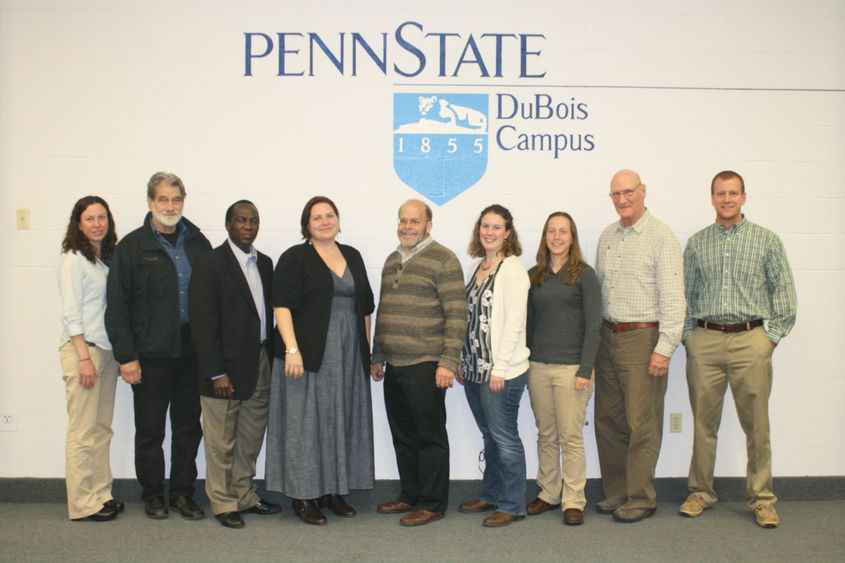 DUBOIS, Pa. — Gary Alt, former biologist for the Pennsylvania Game Commission, spoke at Penn State DuBois March 31 as the 2016 Umbaugh Lecturer. Made possible by the generosity of Robert and Joyce Umbaugh, the Umbaugh Lecture brings highly qualified speakers in the fields of science and technology to the campus each year. It is free and open to the public.
Alt spoke about his experiences working in wildlife management and his career highlights since graduating from the first wildlife technology class at Penn State DuBois in 1972.
Alt worked as a wildlife research biologist for the Pennsylvania Game Commission for more than 27 years, and for 22 of those years he led the statewide black bear research management program. He was head of the statewide deer research and management program for five years. During his tenure, Alt was responsible for launching some of the largest field studies in the country on black bears and white-tailed deer, and made some of the most sweeping changes to bear and deer management in the history of Pennsylvania.
With colleague Hal Korber, Alt produced a video on black bears that generated more than $1.5 million for the Pennsylvania Game Commission and won five awards at the International Wildlife Film Festival in Missoula, Montana. The two teamed up again and produced deer management videos that were distributed to the general public and were instrumental in an educational campaign to win support for major policy changes.
An active public educator, Alt has presented more than 1,500 lectures to more than 300,000 people during his career. He has been honored in Time Magazine as a conservation innovator, and his work has been published in a variety of professional journals and featured in People Magazine, National Geographic World, Sports Illustrated, Readers Digest, National Wildlife, the Wall Street Journal, USA Today, The New York Times, Philadelphia Inquirer, The Washington Post and hundreds of other magazines and newspapers. Alt's work has also been given national television coverage by "Good Morning America," "CBS Sunday Morning News," "National Geographic Explorer" and more.