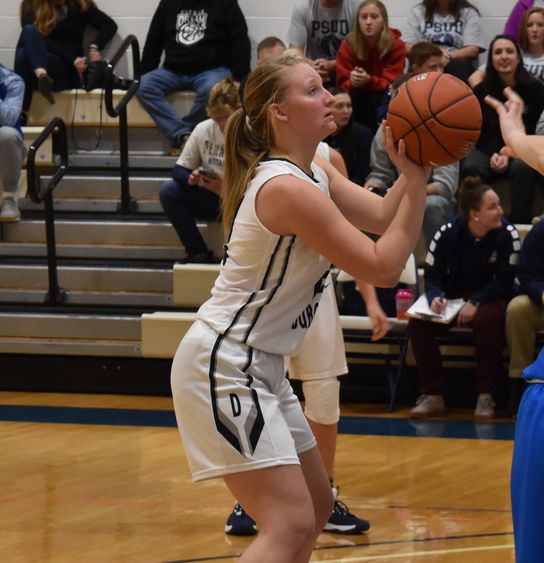 DUBOIS, Pa. — The Penn State DuBois Lady Lions basketball team hosted two games this weekend against their first Pennsylvania State University Athletic Conference (PSUAC) teams of the season. Friday night DuBois took on Penn State Hazleton, and Saturday was against Penn State Schuylkill.
Friday night saw the Lady Lions playing tough and hard-nosed defense in front of their home crowd. Holding Hazleton to just 31% from the field and only 15% from beyond the arc, DuBois took control early on. Freshman Malliah Schreck (Emlenton, Pennsylvania) was a force to be reckoned with, and Hazleton had no answer for her as she went 7-10 from the field, 8-12 from the free throw line, and pulled down 15 rebounds.
The Lady Lions out-rebounded Hazleton 49-30, and forced 14 turnovers to win their first conference game of the season, 92-56.
Sydney Shaw (Warriors Mark, Pennsylvania), Skylar Ceprish (Allport, Pennsylvania), Allison Easton (Coudersport, Pennsylvania), and Leah Lindemuth (Brockway, Pennsylvania) all added double-figure scoring to help lift DuBois over Hazleton in a great team effort.
Saturday afternoon would give the Lady Lions a bigger test on the floor after having just played 14 hours prior. However, Coach Pat Lewis had his team ready for their next PSUAC foe, and would write pretty much the same script as the night before. Another well-executed defensive effort held Schuylkill to only 22% from the field, and would prove to be enough for DuBois to win their 2nd conference game in as many days.
Senior Maddie Sprankle (Johnstown, Pennsylvania) would lead all scorers with 19 points, and Schreck would post another double-double with 10 points, and 16 rebounds. DuBois would again win the rebounding battle 54-38, and start their conference play on a winning streak.