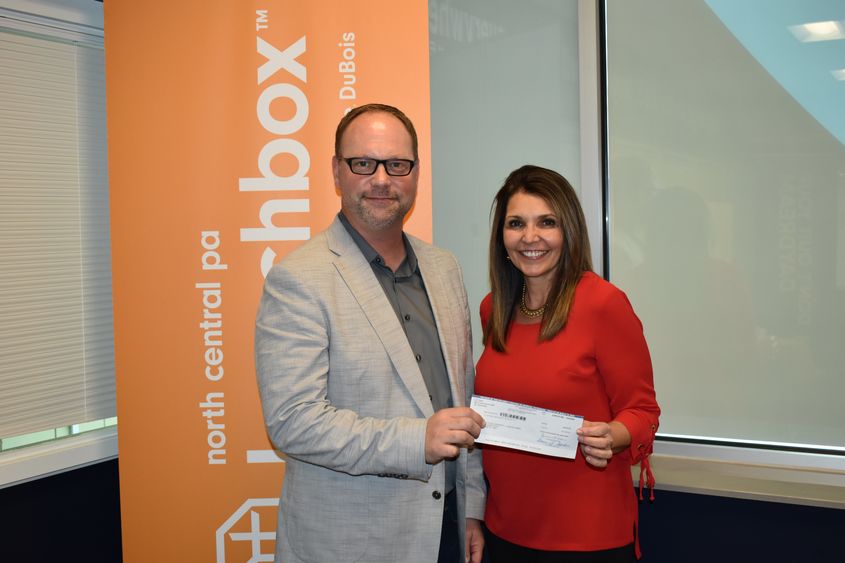 DUBOIS, Pa. — The Glenn and Ruth Mengle Foundation of St. Marys, Pennsylvania, has made a $15,000 gift to support the North Central PA LaunchBox Powered by Penn State DuBois. These funds will be used to enhance the downtown LaunchBox location with state-of-the-art technical equipment that will be made available to entrepreneurs and business representatives using the facility. This includes audiovisual equipment such as a laser projector, 170-inch projection screen, and wireless audiovisual systems that can be used for seminars and presentations.
"The Mengle Foundation's gift will provide entrepreneurs and the overall business community the technical access they need to grow their business," said LaunchBox Director Brad Lashinsky. "It's centered on programing needs and business growth. We are very grateful to have partners like the Mengle Foundation who see the value in the work we're doing and are will to support these initiatives."
The North Central PA LaunchBox and Innovation Collaborative is a partnership focused on supporting manufacturing competitiveness and workforce needs, growing and attracting talented entrepreneurs and innovators, and creating the new high-knowledge, high-technology businesses for the region. Penn State DuBois serves as the convener to facilitate partnerships with and between businesses, education and industry, as well as economic and community development stakeholders, thus creating a functional ecosystem for providing facilities and programming for industrial research and development; P-20 STEAM (science, technology, engineering, arts and math) educational and professional programming; business and community development; and workforce training and development for regional industries.
In locating the NCPA LaunchBox in downtown DuBois, all the region's resource partners will be able to utilize this facility to provide assistance for starting and operating a business. This includes co-working space, pitch competitions, start-up grants, tech accelerator programming, business plan development, low-interest financial lending, website design, marketing, technology and site selection. Each resource partner will be able to collaborate in different ways and on different scales with the mission to provide economic benefits to the region.
The LaunchBox will provide a venue where professional seminars, conferences and events can take place to address a wide array of topics, including both economic and community-based issues affecting children, their families and the overall workforce. The topics will range from business plan development, social media marketing, financial health and wellness, to addressing the opioid crisis, social media awareness, and bullying, etc., which all impact one's self-worth, family, work, community and the region.
Representatives from First Commonwealth Bank-Trust serve as trustees for the Glenn and Ruth Mengle Foundation. First Commonwealth Assistant Vice President and Trust Officer Lisa LaBue said, "The Glenn and Ruth Mengle Foundation was started because of the Mengle's passion for education and their community. So, the trustees feel the LaunchBox project falls within the scope of the foundation's mission to support educational, religious, scientific and charitable needs of the communities of Clearfield, Jefferson and Elk Counties."
This gift will advance "A Greater Penn State for 21st Century Excellence," a focused campaign that seeks to elevate Penn State's position as a leading public university in a world defined by rapid change and global connections. With the support of alumni and friends, "A Greater Penn State" seeks to fulfill the three key imperatives of a 21st-century public university: keeping the doors to higher education open to hardworking students regardless of financial well-being; creating transformative experiences that go beyond the classroom; and impacting the world by fueling discovery, innovation and entrepreneurship. To learn more about "A Greater Penn State for 21st Century Excellence," visit https://greaterpennstate.psu.edu.