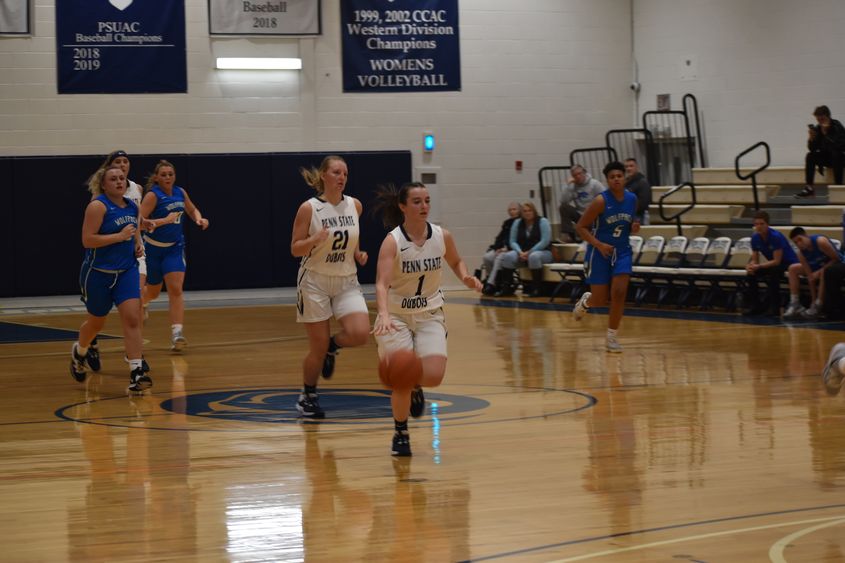 DUBOIS, Pa. — Penn State DuBois Lady Lions Basketball Coach Pat Lewis' players are coming off a two-game win streak, and won their last game at home this past Tuesday. DuBois would host the Wolfpack from Westmoreland Community College for another tough task on the home floor, coming out on top 83-58.
Defense would help the Lady Lions to take the early first quarter lead as they took the ball away from the Wolfpack 9 times, and took a 19-11 lead to start the second quarter. Maddie Sprankle (Johnstown, Pennsylvania) took over the second quarter for DuBois, scoring 8 points alone, while Malliah Schreck (Emlenton, Pennsylvania) pulled down 4 rebounds, and dished out 2 assists.
DuBois would take a commanding 42-28 lead into the locker room at the half, but Coach Lewis wasn't about to take his foot off of the gas against this scrappy Wolfpack team.
Lexey Shick (Rimersburg, Pennsylvania), a guard junior transfer, found her rhythm and range for DuBois to start the third quarter. Schick went 3-3 from beyond the arc, and scored 13 in the quarter. Schreck had joined in with her teammate to bring down 5 boards, and score 5 points in the same quarter.
Selfless play for DuBois was a key, as they combined for 18 assists, and held the Wolfpack to only 29% from the field. DuBois would win the fourth quarter as well, and would win their 3rd game in a row for the season, 83-58.
Shick would end the night with 20 points, 6 rebounds, and 3 steals. Sprankle would come in with 12 points, 4 assists, and 4 rebounds, and Schreck would end the evening with a solid double-double of 15 points and 14 rebounds.
The Lady Lions will travel to Butler County on Saturday to try to continue their winning streak.