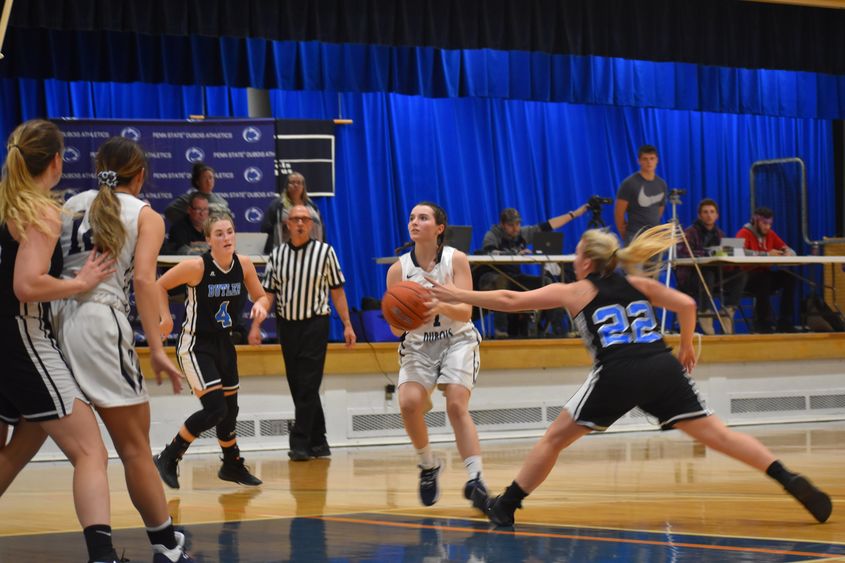 The Lady Lions had their first home basketball game of the season Tuesday as they bested the Pioneers of Butler County Community College 84-53. After coming off of a commanding victory on the road this past Saturday, Penn State DuBois was looking to give its home crowd a good show.
With a dominate first quarter from junior guard Cierra O'Shell (Coalport, Pennsylvania) the Lady Lions took complete control of the game, going up on the Pioneers 24-5. O'Shell put up 10 points to give her team the big lead, and the Lady Lions never looked back. DuBois took a 38-24 lead into halftime as the Pioneers tried to hold their own against the fiery DuBois defense.
The second half was much the same, and though the Pioneers never stopped, DuBois didn't either as they kept a tight handle on the control and pace of the game.
Lexey Shick (Rimersburg, Pennsylvania) led DuBois in the points column with 16 while Maddie Sprankle (Johnstown, Pennsylvania) would end the game with 15. Malliah Shreck (Emlenton, Pennsylvania) and Morgan Silvis (Tionesta, Pennsylvania) led the team in rebounds with 11 and 10, respectively.
DuBois will host Westmoreland County Community College at 6 p.m. on Nov. 12.