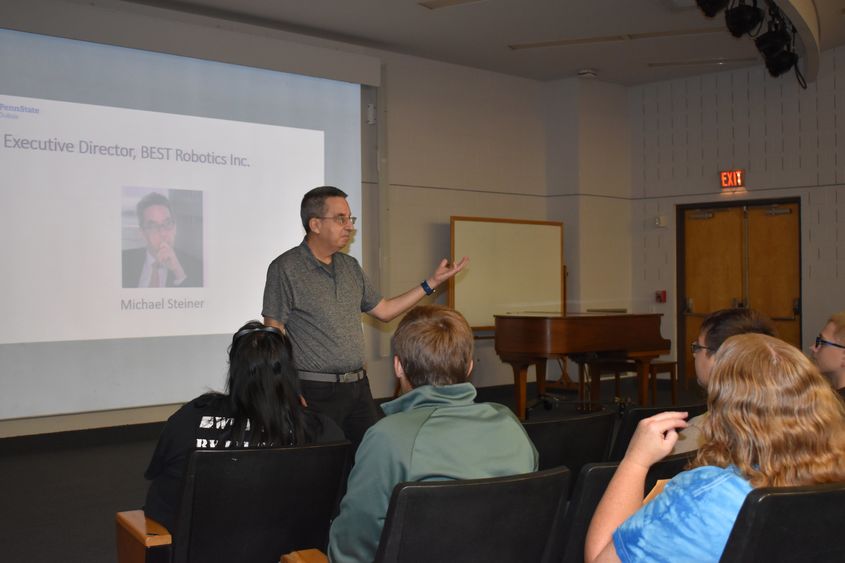 DUBOIS, Pa. — A national robotics competition for middle and high school students got underway at Penn State DuBois on Saturday, Sept. 7. An official kickoff event for BEST (Boosting Engineering, Science and Technology) Robotics took place on campus, with nine schools and nearly 200 students participating.
During the event, teams received the parts they'll need to build a robot and got an overview of the competition. They also got a glimpse of the obstacle course they'll run with their robot during the official Game Day, planned for 9 a.m. to 3 p.m. on Saturday, Oct. 19. The games will take place in the campus gymnasium and are open to the public.
A Mall Day also is planned for 9 a.m. to 3 p.m. on Saturday, Oct. 5, where the public is invited to take in a preview of the robotics competition at the DuBois Mall.
BEST provides all necessary parts and equipment for teams to build a robot that they can use to run a course and perform specified tasks. The robot must be built within a six-week time frame. On the days of the contest, all teams will run the course, competing for the best times and course completion. Through participation in this project-based program, students learn to analyze and solve problems utilizing the engineering design process, which helps them develop technological literacy skills. The goal is to better prepare these students for further education and careers in science, technology, engineering and mathematics (STEM) fields.
During the welcome on Saturday, students also had the opportunity to hear from BEST Executive Director Michael Steiner. Steiner oversees the entire nationwide organization, based out of Pittsburgh, which includes 47 hubs, more than 900 schools, and nearly 30,000 students participating each year.
"I'm delighted to be here and excited that the university is engaged, that the team is making every effort to help these amazing kids have a chance to get into engineering," Steiner said. "In 42 days, these kids will be completely different. This can change their lives. They'll have to pull every single talent out of every individual on their team and bring them together, and that's the point of the competition."
The talents Steiner referred to include those far beyond engineering and construction of the robot. The learning opportunities with BEST don't stop at science and technology. Teams also compete and receive awards for other areas of the project, including marketing, exhibition, sportsmanship and team spirit.
During the kickoff day students also took part in workshops where they were introduced to various parts of the competition, such as the marketing portion, how to maintain an engineering notebook they'll keep throughout their robot build, and a session during which some students from each group assembled and soldered a circuit board for use in their team's robot.
This year's theme is titled "Off the Grid" and is based on a scenario where a natural disaster has taken out the supply of electricity to an area. In the simulation on Game Day, students must use their robots to repair the electrical grid.
Stephen Feldbauer is a senior adjunct faculty member in the engineering program at Penn State DuBois, as well as the director of Penn State DuBois BEST.
"This year, the theme shows the students the importance of technology in recovering from a natural disaster," Feldbauer said. "That happens to be timely, especially with seeing the coverage of Dorian in the news. So, it helps them to see that they are really doing something relevant."
Schools participating in Penn State DuBois BEST this year are Altoona High School; Bethlehem Center High School; Cranberry Area School District; DuBois Area High School; Mentor Christian School, from Mentor, Ohio; Oil City School District; The Tatnall School, from Wilmington, Delaware; Redbank Valley High School; and Redeemer Lutheran School.
Three top teams from the Penn State DuBois hub will move on to regional championships, to be held Dec. 7-8 in Denver, Colorado.
BEST at Penn State DuBois is made possible by platinum sponsor Miller Fabrication Solutions, silver sponsors Atlas Pressed Metals and Comtec Manufacturing Inc, and bronze sponsor Eastern Sintered Alloys Inc.